Return to Aldeburgh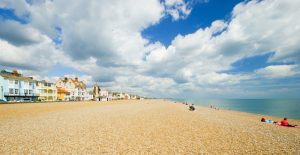 For those who have been wondering where I've been for a longer pause than usual, last year I turned my attention to poetry which has been a constant presence in my writing life, and have been assembling some collections which needed seclusion and concentration, including one of travel poems which for obvious reasons has been a constant thread.
As part of that process I returned to the Aldeburgh Poetry Festival which loyal readers with longer memories will remember I attended almost exactly 10 years ago and gave a reading and blogged about.
So very interesting to go back. A certain amount has changed, in that the poetry festival – now called 'Poetry in Aldeburgh' as part of its new incarnation after a substantial hiccup a few years ago when the original one went bust – has taken a few years to get up and running again.
But some things have remained the same, including the strong presence of American poets like Gregory Pardlo and Josh 'A Man Being Swallowed By A Fish'  Weiner – and the influence of the late Tony Hoagland, who I first met at Aldeburgh many, many years ago (he was obsessed by finding the best fish and chips), and have always liked; see my review for the Independent of his Unincorporated Persons in the Late Honda Dynasty.
There was a moving and interesting session about him, with contributions from his widow and Josh Weiner and others, talking about 'his vulnerability about being male' and the poems that 'open out and fold back upon themselves' – some of them political ones that deal with 'political emotions rather than political ideas', a useful distinction. Bloodaxe's anthology, What Narcissism Means For Me, which introduced his work to many British readers, remains one of the most influential poetry publications of the last few decades. I admire Tony's bravery – not least in the face of cancer in his last poems, but also in his unflinching ability to write about difficult subjects, like the power he suddenly feels over his invalid mother – and the looseness of line he inherited from Frank O'Hara, one of his primary influences.
Michael Schmidt talked of his relationship with many poets over Carcanet's long existence and I was struck by his unfailing courtesy and patience in the face of often difficult poets like WS Graham or Elizabeth Jennings (what, poets can be difficult and prickly – surely not!)
Gregory Pardlo talked interestingly about the identity politics and poetics which have become so dominant in the States – and the interest in 'radical empathy', the idea that we can never know what it's like for another class/race/gender group but we can at least acknowledge the gap; 'let's at least think about the obstacles between us.'
While recognising and respecting the provenance for such ideas, I still can't help thinking that it's not who you are, but what you write that matters. That in a way, poetry is a place where identities can be lost rather than found.
Certainly Eliot would have thought so and one of the highlights of the festival was a superb session by Matthew Hollis and Richard Scott (an emphatically gay identity poet and a very fine one) about 'The Waste Land'. While Pound's dramatic influence as an editor is well known – slashing the first 80 lines of Canto IV for a start – it was interesting to hear of his hostility to pentameter, or what Pound called 'tum-pum' – don't be too 'penty', he would admonish Eliot, and shift a line to tetrameter, to useful effect.
By way of rounding off a very good weekend, I went to see a community theatre production of Pearls from the Grit, produced by Naomi Jaffa who for a long time was the director of the Aldeburgh Poetry Festival and built it into the international presence it became. Written by Dean Parkin, her colleague from those days, the play was a fine evocation of the lost shipping community in Lowestoft, once gifted with more pubs per head than any other place in England before it was swept away for some gasworks. Good to see this being supported by the Arts Council as this was precisely the sort of theatre that taps into strong local emotions and sentiment and was much welcomed by the capacity audience in Halesworth.