At The Captain's Table

At The Captain's Table:  Life on a Luxury Liner Kindle Singles £1.99
Round the world the soft way. For less than the price of a cappuccino grande,
a frothy confection of a travel book with double shots of autobiography and
world analysis thrown in.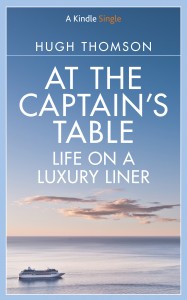 The rich man leans over to me. We're drinking vintage Salon champagne,
a special bottle of which the barman has kept solely for him. There's a jazz
pianist somewhere beyond our vision trying hard to play music that is bland
enough to sound taped. Canapés of pecorino chunks, shrimps skewered with
chilli and prosciutto rolls litter a sidebar in abandoned and profligate confusion.
The smoked glass of the Observation Bar windows diffracts the lights coming
from the exclusive Virgin Islands bay.
'Carlo [the owner] told me that when they were first planning an open bar policy,
and were anxious about it, they overestimated the resulting costs by a factor of four.
Because here's the thing. People drink less when it's free.' He pauses to take stock
of the effect of these words on me. I am indeed surprised. I've always drunk more
when it's free. I'm a writer.
Kindle Singles is an interesting new initiative.  Kindle have commissioned established writers like Stephen King, Jon Krakauer and Amy Tan – and way down the pecking order, uh, me  – to do books directly for them, and put them in a specially branded bit of their store.  Something which should be getting traditional publishers worried, as a harbinger of more to come.
I certainly enjoyed writing this –  light-hearted, it involves all the classic elements of comedy:  life on the high seas, some rampant snobbery and even a marriage at the end of it…  Mine.
.