Tequila Oil
.
Tequila Oil: Getting Lost in Mexico, is Hugh's wild memoir about doing just that
in Mexico when he was eighteen and, in the words of the Alice Cooper song,
"didn't know what I wanted" ('Eighteen').  Then 30 years later he goes back…
It was serialised by BBC Radio 4 for Book of the Week and
shortlisted for the Dolman Best Travel Book Prize.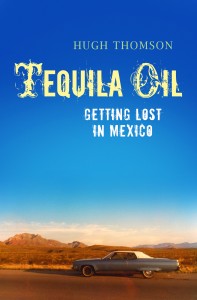 Reviews of
Tequila Oil
.
A thrilling travelogue that rails against the homogenisation of the world.    Traveller 
Delightful, celebratory and honest …. ….In a way it is the first installment of his now-complete trilogy, his Cochineal Red and The White Rock being two of the finest books on Latin America of recent years.   
Rory Maclean, The Guardian  [see whole review]
 Thomson's Mexico is one of beauty, humour and freedom, laced with a tantalising hint of danger.    Wanderlust
 A beautiful book, full of appreciation and aphorism, an unashamedly personal story. It's soulful, very funny, thoughtful, with a deep romanticism at its heart. And it takes the reader to places we may not have dreamed of going – places of geography, the spirit and the emotions.     The Independent  [see whole review]
'Try this tequila oil, Hugito.  Just as the alcohol hits your stomach, the chilli will as well
and blow it back into your brain.  It will take your head off.'  
On his first trip to Mexico, Hugh Thomson is told by a stranger he could make money buying
a car over the Texas border and taking it thousands of miles through the country to sell on the
black market in Central America. What does it matter that he doesn't have a driving licence?
He is eighteen years old, far from home and with time to kill. It sounds like the most sensible
plan in the world.
 So throwing himself on the kindness and mercy of the Mexicans he meets or crashes into, he
and his beloved Oldsmobile '98 career from one crisis to another before meeting their apocalyptic
destiny in the slums of Belize City – where he returns many years later, older but not necessarily
wiser, to complete his original journey.
His travels reveal a wild off-the-beaten track Mexico, leading him from the badlands of Chihuahua
to the jungles of the Yucatan and one of the least understood cultures on the planet, the Maya.
 'Boys,' said the Texan salesman, 'I don't know where you're heading, but you've got yourself a
mighty fine car to do it in.'   And we took it.
Published by Weidenfeld & Nicolson / Phoenix
From the Introduction:
'Most of the events in this book took place a quarter of a century ago, when Mexico was a wilder and stranger place than it is today, although it still has many pockets of surprise and resistance to the modern world – as does neighbouring Belize, where my original journey ended, or was interrupted, and to which I recently returned for the last section of this story.
 Those wanting a travel narrative in which the author is just a shadowy presence who never declares himself should look away now; this is an unashamedly personal story.'
..
see .Hugh's piece in The Traveller Magazine:  'Mexico City Dreams'
'It may seem strange, in a tough, fast city that is so large and has such extremes of wealth and poverty, but I think of Mexico City as a place for dreamers…'
and from the Financial Times, 'Tequila Tales':
'Tequila used to be a real man's drink, straight up and raw; the only accompaniments allowed were a pinch of lime and salt. One of PG Wodehouse's pre-war characters ordered "a shot of that Mexican drink that they call – no, I've forgotten the name, but it lifts the top of your head off"…'
 with a few additional notes on how and where to Drink Tequila
Excess Baggage' on BBC Radio 4:   Listen to the programme
Hugh talks to John McCarthy about travelling to Belize, as at the end of Tequila Oil.
Trivia note for those who got to the bottom of the page:  the photo on book cover is the genuine picture of the Oldsmobile 98 taken in the Chihuahua desert in 1979 towards the start of the  journey (note that it's already lost a hub-cap).  And below is picture of author at the time.
Would you buy a car from this man? I wouldn't….