FAQs
see the Wanderlust interview with Hugh for some FAQs about  Tequila Oil: Getting Lost in Mexico
What is your favourite Buddhist koan?
The story of an old sage instructing his pupils:  "When I was young," he says, "I believed that a mountain was just a mountain.  Then, when I began the long process to nirvana, enlightenment, I realised that there was much more to a mountain and that it was a symbol of many other things.  But now that I have achieved nirvana, I realise that a mountain is, indeed, just a mountain." [as told in Nanda Devi]
.
Favourite crisp? 
Cheese and onion.  Although I'm confused ever since Walkers put them in a blue packet, rather than the old green one.  Why did they do that?
.
What was the first place you visited overseas?
Paris with my mother when I was very young, in 1968. It was exciting. We had just the £50 exchange control allowance and stayed with a bunch of students who I realise, in retrospect, were stoned revolutionaries. On our first night they drove us around the city in an open-top car. I can still remember the impact with which we hit each roundabout, like a bob-sleigh ride.
.
What is your idea of heaven on Earth?
A small quinta in Peru's Sacred Valley, criolla music playing in the background, having some deep-fried pork and cold beers with friends, while knowing that there is jungle-fruit ice-cream to follow.
.
And what about hell?
A bank in the town of Ziguinchor in Senegal, in the hot season, waiting for travellers cheques to clear.  It took three days and I've carried cash ever since.
.
Who is the most memorable person you've met?
Lee `Scratch' Perry, the Jamaican record producer and maverick. His habit of speaking constantly in verse, wearing Mickey Mouse shorts and watering the CDs he'd planted in the garden of his burnt-out recording studio helped. Plus the fact that he's a genius.
.
What has been your worst moment?
Getting dragged by a horse down Peru's Vilcabamba valley when a mining pickup tried to run us down was not good, but at least the scars were only physical. Telling director Nicolas Roeg that I was the only person in the cinema for a screening of his film Eureka not long after it opened is more likely to keep me awake at nights.
.
Do you listen to music on your travels?
Obsessively. William Dalrymple and I travelled a great deal around India together for our BBC series Indian Journeys and kept trading tracks. For some peculiar reason Bob Dylan's Time Out Of Mind worked particularly well as we headed to the source of the Ganges.
.
What is your favourite holiday read?
I read Anna Karenina while crossing the Peruvian desert; the 24-hour journey forced me to finish it [see Book of a Lifetime]. I usually enjoy books that other people have brought — as with ordering food in a restaurant.
.
I'm going to Peru and want to walk the Inca trail.  Any advice?
Many tour companies have behaved irresponsibly in the way they sell the Inca trail:  they commit the cardinal mistake of flying clients into Cusco from sea level at Lima, and making them spend the night there at 11,000 ft.  At the best of times this is inadvisable;  when you're about to do a 4-day trek over high passes, it's inexcusable, as the last thing you want is to start already suffering from the altitude.
I've seen too many walkers on the Inca trail suffer in just such a way from poor acclimatization and preparation, particularly on some charity or budget trek where corners have been cut.  The last time I led a group on the Trail, I had two grandmothers in their 70s with me. Properly acclimatized, they cruised past many a group of fit young trekkers who hadn't, and were collapsing on the wayside.
The smart move is always to spend your first night after arrival at Cusco airport in the nearby Sacred Valley, at a lower and considerably more comfortable altitude, and closer to the start of the Inca Trail anyway.  The delights of Cusco with its fine dining and fleshpots can be saved until you've finished the trail – when you will have deserved them.
.
Why are there only 5 items in all your lists?
Because it's too much like hard work to think of ten.
.
Most over-repeated phrase?
'Let's move the stool to the piano rather than the piano to the stool.'
.
[BBC radio intv.:]  You travelled around the world meeting all these rock stars [for the Dancing in the Street TV series].  What was your best moment?
When Tina Weymouth [of Talking Heads] admired my socks.
.
Can I get DVD copies of your documentary work, like Dancing in the Street and Indian Journeys?
Often not, for copyright reasons, which is deeply irritating and absurd given that as a licence payer you probably paid for them in the first place.  Aside from Russia with Jonathan Dimbleby, and my Kilimanjaro film, almost none of the films available, although sometimes re-shown on TV.  BUT it is starting to be possible to see them online:
See some of the films Hugh directed, now on YouTube:
Oscar  A very personal account of Oscar Wilde's life and legacy as the first of the century's 'rock and roll stars'
 Dancing in the Street: A Rock and Roll History most if not all of the 10 episodes of are available on Youtube, sometimes in their American version as the PBS series 'Rock and Roll':   like episode 8 on Punk (BBC UK version):   Jonathan Richman, Steve Jones on how to play guitar on speed (not at speed), The Clash, John Lydon, Johnny Ramone together with Joey Ramone – very rare – and some amazing footage of Patti Smith we found in a fridge, unseen for 20 years.  And Hugh went to Jamaica to have herbal tea with Bunny Wailer. Watch and envy.  Not least because he drops the TV in the Opening Titles of TV being thrown out of window.  Hugh personally threw every television for the 15 takes needed to get this shot.   Kind of addictive.  Can see why Keef got into it.
.
Stones or Beatles?
It's a simplistic question.  But by temperament, more Stones.
.
What are you working on at the moment?
A novel set in Peru.  if When not tinkering with this website as a displacement activity.
.
Where is your favourite place?
Cusco in Peru. Over the last 20 years, it's been where I've started expeditions into the Vilcabamba from, so I associate it with homecomings and departures. And it is still, as Guaman Poma, the eccentric 17th century chronicler of Inca life, described it, "un espacio mágico" — a magic space.  See piece for the Sunday Telegraph: Cuzco: my kind of town
What attracts you so much about mountains?
I'm drawn to mountains that have a special spiritual meaning for the people who live in them, like the Andes in Peru which the descendants of the Incas still venerate, or the sources of the Ganges in the Himalaya to which many Indian pilgrims are drawn. I can't see the point in 'empty mountains', where all you're trying to do is climb a lump of rock.
.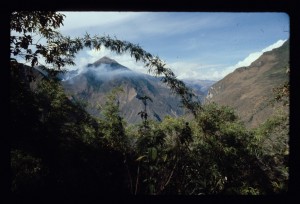 What do you enjoy most about the world?
Its limitless capacity to surprise, given the chance.