Book of Lists
The 21 Best films of the 21st Century
a personal response to a recent list where worldwide critics did their poll of polls
.
5 top traveller's tips
Always ask for a better room in a hotel at the same price. Because there always is one.
Take teabags
Give up lettuce completely when abroad.  It's not a hardship.
The best way to get over jetlag is to see both sunrise and sunset as they unfold, and the subtle light changes then can help re-set your body clock. This works.  Don't try to sleep it through in the hotel room with the blinds down.
Try not to be paranoid – much better to be open and full of trust with people.  And the ones who are paranoid always get mugged anyway.
.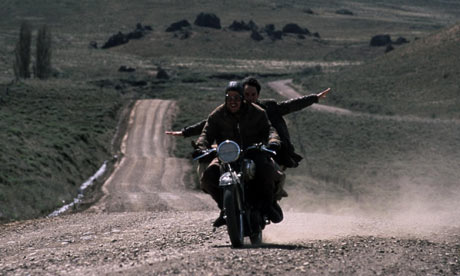 .
Read Hugh's 'top 10 South American journeys in literature'  as chosen for the Guardian.  .
.
 5 favourite movies set in Mexico [as occasionally quoted in Tequila Oil]:
Touch of Evil.  Orson Welles:  'I don't speak Mexican.'  The movie that shows that as soon as you go south of the border, the bombs start going off…. Charlton Heston surprisingly convincing as a Mexican.  Welles superb as a director.  And that famous tracking shot.
From Dusk til Dawn.  Tarrantino has fun.  Of course the vampire bar is really a pre-Columbian temple…  You knew that all along.
Build My Gallows High.  Only a brief but potent Mexican sequence – and the great and sexually-charged scene when Robert Mitchum dries Jane Greer's hair.  Even by film noir standards, a completely incomprehensible plot.
Treasures of the Sierra Madre, with Humphrey Bogart and its iconic line about how Mexican bandits 'don't need no stinking badges'.
Night of the Iguana.  Richard Burton's best film.  The Mexican Pacific coast looks pretty good too.
also honourable mention to Red Rock West for following dialogue between runaway couple at a bar:
Girl:     'Goddam, I love tequila.  Why don't we go to Mexico. You've been to Mexico, Brad.  What's it like?'
 Brad:   'Hot.'
.
5 things you can still do in recession London for just £2.00 or under
:
Rent a deckchair in Hyde Park for the afternoon and watch the world go by
Unlimited refills of Miso soup at Yo! Sushi.
Private Eye:  good value and needed more than ever in a  pompous and corrupt world.
Take a ride on the top of a No 9 double decker bus.
Buy a packet of nasturtium seeds:  incredibly easy to grow on any soil (indeed the worse the better almost) and a multitude of flowers for that bijou windowbox.
 .
5 things to do in Peru if poor:  
Go to Bolivia. It's cheaper.  The Island of the Sun, just over the border from Peru, is particularly recommended if you need to rest up, spend little and enjoy the sun.
Learn Spanish.  Life is more expensive if you can't speak it.
Arrive at Machu Picchu in the afternoon when the tour groups start to leave – someone may give you their 50 US$ day ticket and you then have the site to yourself in the best hours before sunset.
Learn to travel slowly.  But take taxis in towns sometimes – at a handful of cents, it's a luxury you can afford.  Also remember that a  shared taxi (or colectivo) can be almost as cheap as a bus and a lot faster.
Don't eat in cheap restaurants (or Chifas, Chinese restaurants) where you can't see the kitchen. Any money saved will go on antibiotics.  Buy fresh produce from the market or eat street food cooked in front of you like anticuchos, beef-hearts, or choclo y queso, corn and cheese.
 .
 5 things to do in Peru if rich:
Give generous tips and remember that the average daily wage is a few dollars.  Don't haggle over pennies.
Take the Orient Express train between Cusco and Puno.  Have a drink in the observation car and remember that scene from Double Indemnity.
 Stay at the Hotel Monasterio in Cusco and the Pueblo in Machu Picchu.
 Fly everywhere or at the very least get the most expensive bus service.  It's worth it.
 Take a suitcase of educational supplies – like solar-powered calculators – and give them to kids or better still schools and teachers in any remote villages.  You can also buy them in bulk at Cusco's El Paraiso market for $5 each.
  .
5 Explorer's essentials:
[as given to Geographical Magazine]
Petzl head torch.
Prefer the ones that have both a tungsten light (for walking with) and long-life halogen (for doing stuff around tent etc..).
www.petzl.com
North Face Paramount trekking trousers.
Lightweight, tough, quick-drying.
www.thenorthface.com
Mountain Equipment fleece over-trousers.
For waiting around in the cold for the mules to arrive with the gear at the end of a day's trekking.
www.mountain-equipment.co.uk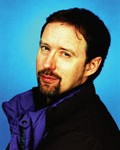 Rab down jacket.
Again, for those cold evenings.  As worn in this photo.  Model's own.
www.rab.uk.com
.
.
.
.
Sigg water bottles
I'm not keen on those 'camel bag' pouches that you suck water from as you walk they can freeze, get dirty and so forth, in my opinion, a bottle is better.  Plus they have all the dents to remind you of  previous trips.
www.sigg.ch
also honourable mention to:   Black Ortlieb synthetic canoe sacks, for putting them all in.
Not that I ever go near a canoe. They may look more like body bags than luggage, but they're great for gear storage, obviously water-proof  and rip-proof, even when carried on the back of mules that seem determined to inflict damage.
 .
And 5 for the day-pack:
An Alwych all-weather notebook.
For taking a record of your trip, no matter what the conditions.
www.alwych.co.uk
Coca tea.
Great for acclimatisation.  Just don't try to take any back through US Customs.
Vodka miniatures.
Extensive research over the years has shown this to be the cleanest drink at altitude.  Not that you should drink at altitude at all really.  But if you spend weeks in a field-tent, you're going to.  Then take the coca tea to feel better.
Aloe Up high-factor sun cream.
Designed for sports people and mountaineering types;  less cloying than the regular high street brands.
www.aloeup.com
A coffee-plunger mug.
Essentially a cafetiere that is also its own mug, if that makes sense. Called a Smartcafe One Cup, they are invaluable for incurable coffee-drinkers like me.
www.smartcafe.co.uk
 .
5 things to take to the Peruvian Amazon:
Crocs
Ed Stafford wore them to walk entire length of Amazon.  Or Wellington boots (available locally for $10-15).  But anything in between a bit pointless.
Sweat bands
for head and wrist.  Because you will.
Rehydration Salts
To replace all that stuff you just sweated, not just for treating stomach problems.
A plastic rain poncho
much better than all the fancy Gore-Tex stuff, as breathes more naturally, from below. And means you avoid waterproof trousers, which are like wearing a giant condom.  You can buy them for a tenth of the price of Gore-tex.  Mac-in-a-Pac do them , among others.
An umbrella
preferably tough 'trekking' fold-up one.  You will prefer looking stupid to being soaked.
.
Some of my favourite travel books:
As chosen for The Week magazine
Benedict Allen, Mad White Giant
The punk-rock classic of travel-writing , a raw, visceral account of blundering across the Amazon by someone who's totally unprepared for the jungle:  it blew away the old established style of assured British travellers observing the world from under their Panama hats.
 .
Claude Lévi-Strauss, Tristes Tropiques
 Magnificent, tendentious, infuriating and deeply French.  Despite the famous opening ('I hate travellers and explorers'), the book is one long and intense meditation on the need for both, with terrific stories about his expeditions into the interior of Brazil in the thirties and nights spent sleeping with tribes in the ashes of the fire they had lit.
 .
Katie Hickman, A Trip to the Light Fantastic
 An entrancing tale of an English girl who runs away to join a Mexican circus (called 'Bell's Circus' after the whisky)  which manages to get under the skin of the country in a way few other books have done.
 .
Raymond Greene, Moments of Being
 This neglected classic by Graham Greene's brother is by far the most vivid and funny account of climbing in the Himalaya in the exciting period before the Second World War when mountains were still being found for the first time, let alone climbed.
 .
Richard Rayner, Los Angeles Without a Map
 Rayner leaves England and his girlfriend, hitches up with a bunny girl and arrives in LA  to produce a gonzo masterpiece, free-wheeling, amoral and perfectly tuned to the city he's landed in.
 .
WG Sebald, The Rings of Saturn
 A short walk along the East Anglian shoreline provides Sebald with an infinity of imaginative possibilities, and shows quite how versatile and rich the travel genre can still be, allowing discursions on everything from Swinburne and silkworms to the lost city of Dunwich.
.