Nanda Devi
An expedition to a 'lost world' in the Himalaya
The Nanda Devi Sanctuary in the Indian Himalaya has one extraordinary
geographical feature. A ring of 20,000 ft peaks, connected by massive cliff-walls,
effectively seal off the great mountain at their centre, Nanda Devi, the highest
peak in India at over 25,000 ft. There is a high circular valley, like a moat,
between the surrounding mountains and Nanda Devi: the famous Nanda Devi Sanctuary.
Until 1934 this Sanctuary had never been penetrated by human beings.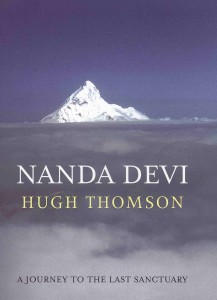 Reviews of Nanda Devi
This comes from deep within the heart of an explorer, who approaches an unknown land with reverence, compassion and a willingness to unfold before the reader things that are seen with an inner eye.  The Hindu.  See full review.
.
A welcome escape to somewhere rare and wonderful.   Anthony Sattin, Sunday Times

A spirited homage to a remote, awesome landscape. Rich in detail and light of tone, it teases its stories out slowly and gently……   This is a region of supreme spiritual significance, the foothills and mountains connected by ancient trails that criss-cross the myriad sources of the Ganges river.  Thomson spins a complex tale of pilgrims, politics and mountaineering mythology from his diverse sources – among his fellow expeditionaries are mountaineering legends who tell him their own stories about Nanda Devi and the past glories of Himalayan climbing.    Telegraph

Thomson tells a story that has to do with politics, ecology and history, as much as with the strenuous adventure in a beautiful setting that his book so vividly celebrates.  The Independent.

Thomson belongs to a rare species of explorer. He is a writer that explores and not an explorer that writes. And it's Thomson's extreme humility in the face of both danger and extraordinary success that places him in the same tradition as Eric Newby.   Geographical.
Hugh journeys to the Himalaya and the source of a legend – the Nanda Devi Sanctuary, which has been closed to travellers for many years.
Until 1934 the hidden valley of the Nanda Devi Sanctuary, on the border between India and Tibet, had never been entered by human beings. Surrounded by 20,000 foot peaks, which effectively seal off Mt Nanda Devi at their centre, it is virtually impenetrable. The many early explorers who were drawn there by the idea of a 'lost Eden' in the Himalaya could only gaze down with longing at the Sanctuary.
But then the 'terrible twins' of pre-war mountaineering, Eric Shipton and Bill Tilman, solved the problem by forcing an entrance up a precipitous river gorge.  Subsequent expeditions were beset by tragedy and concern that the fragile ecology of the Sanctuary might be damaged, so the Indian Government finally decided to ban all visitors.  The Sanctuary was only opened briefly again in 2000 for a special millennium expedition, of which Hugh Thomson was a part.
Hugh weaves the story of his own journey together with those who have gone before him, giving a tantalising account of a place one explorer described as 'more inaccessible than the North Pole'.
Published by Weidenfeld & Nicolson in the UK and Hachette India in India.
 See the new 'Afterword' for Nanda Devi edition for Hachette India 2017, bringing the story up to date.
.
From the original Introduction:
'This is not a book about climbing, nor do I claim to be a climber.  It is a book about mountains – and in particular one mountain, Nanda Devi, which lies in the Himalaya, on the border between India and Tibet.
 More than perhaps any other of the great Himalayan peaks (for Everest only became famous comparatively late, and for reasons of geographical suprematism), a powerful blend of myth and politics has always swirled around Nanda Devi.  A rare opportunity to travel there gave me the chance to explore that myth.
 Following the recent  books marking the 50th anniversary of the 1953 ascent of Everest, this is also a chance to hark back to a earlier, gentler mountaineering world, that of Eric Shipton and H.W 'Bill' Tilman in the pre-war period.  Shipton and Tilman roamed happily through the Garhwal in a spirit of innocent adventuring that has now been lost:  Nanda Devi was their greatest achievement.
 If Everest is a mountain which has become littered with the corpses and detritus of previous expeditions, then Nanda Devi remains the epitome of the inviolate mountain – which is perhaps what mountains should be about.'
.
Hugh Thomson talking about Nanda Devi on Excess Baggage with Sandi Toksvig in 2005 – Download and play
.