Point Break: Surfing in Peru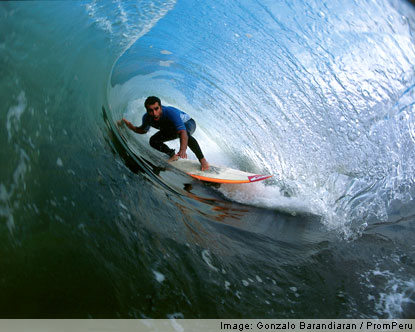 'Here's the thing,'  the surfer told me.  He was changing out of his wetsuit as we looked offshore at the monstrous wave of Pico Alto, as it came towards us.  'That wave gets to 12 metres high [40 feet]. But it's not just the height. It's the depth of water behind it.  It's triangular.  So if that thing comes down on you, you feel like a brick house is coming down. And you're underneath it.'
We are just 40 kms south of Lima in the resort town of Punta Hermosa, where the new mania for surfing in Peru has precipitated a building boom.  Rows of brand-new white apartment blocks gleam in the sun on the cliffs above a whole series of fabulous waves:  Caballeros, 'for Gentlemen', a right hander, is matched chivalrously by Senoritas, 'for Ladies', a left hander that is equally impressive;  and further out is that daunting sight of Pico Alto, which means 'High Summit' and is such a towering monster that it is on the world big wave circuit along with its cousins in Hawaii and  Indonesia .
'If you don't surf here, there's nothing else to do,' Erika Hamann told me. Erika, like many of Peru's most talented young surfers, was brought up on a board from an early age.  'I learned when I was eight.  My father surfed.  My grandmother was famous for surfing tandem with Carlos Dogny, who brought surfing to Peru in 1938.  So I was always comfortable in the water.'
She lives about as close as possible to the ocean as you can without getting your carpet wet.  Together with her surfer boyfriend, Carlos Presa, they have enough boards to fill a small garage.  'But I want another one, dude,' Carlos told me.  (Spanish surfers use 'dude' almost as much as American ones).  'For when Pico Alto gets big. A board that has got my name on.  And is strong enough not to crack if I get barrelled.'
Erika was picked to train for the Peruvian selection team, mentored by one of the most charismatic figures in Peruvian surfing – Sofía Mulánovich, who won the  world title in 2004.  Sofia grew up just down the road from Erika in Punta Hermosa and encouraged Erika and other young women to compete themselves.  When Surfer magazine ran a piece a few years ago on the most influential figures in world surfing, Sofía Mulánovich was the only woman who made the cover.  Now Sofia tours the world to places like Australia and Indonesia, flying the flag for Peruvian surfing .
'We're still kind of a secret in world surfing – even though the 1963 World Championships were held here,' Erika said.  'The Brazilians know about us, and come over a lot – but when the rest of the world thinks of Peru as a tourist destination, they think of Machu Picchu and the mountains, not the beaches.  Although that is beginning to change.'
'And one thing we have got in Peru is more than enough waves to go round.  In some parts of the world, locals get angry if visitors come and drop in on their precious waves.  But we're more chilled.'
The rest of Peru lives in dread of the coming of an el Ni­ño, with the floods and climate disruption that inevitably come in its wake.  Not the surfers.  'It always brings good waves,' says Carlos callously.  'It's when I've seen Pico Alto reach twelve metres. Pumping.'
Punta Hermosa has become so much Peru's Surf Central that even the park benches around town are shaped like surf-boards.  At a big competition hosted by an American surf company, I saw some of the local talent show off their moves.
A big guy in a surfing T-shirt saw me taking photos.  'The Hawaiians say they invented surfing.  And certainly, Duke Kahanamoku helped bring it to Peru.  But we've always lived a lot in the ocean.  For thousands of years our fishermen have shaped their straw 'caballitos de toro' so they can ride the waves.'
Local surfer girl and Panamerican champion Analí 'La Negra' Gómez certainly proves the fishing connection.  Her father was a fisherman who used to throw his eleven kids into the ocean to  teach them to swim.  Analí, the youngest, grew up messing around on cheap bodyboards and once, when she started to surf, got caught in a fishing net and almost drowned.  Now 29 and a powerful, aggressive presence in surfing competitions, Anali exemplifies the way that surfing, once a rich playboy's sport in Peru, has reached out to the whole population.
Back in the 1950s, the all-male Waikiki club in Lima ruled the roost, made up of a stylish if privileged group of Lima families presided over by the glamorous playboy Carlos Dogny, always photographed with an enormous surfboard and petite blonde.  The surfboards were so long you could have held a dinner party on them – which, being the Waikiki club, would probably have been a black-tie affair.
As elsewhere in the world, that all changed with the arrival of short, cheaper boards, easily transportable by car, and Lycra wetsuits.  And because the beaches are so accessible to Lima's population of  10 million, it took off faster than a surfer dropping down onto that 40 foot Pico Alto wave.
There are surf spots right up Peru's long Pacific coastline as far as the resort town of Mancora, almost on the Ecuadorian border – the place to go if you want some clubbing with your surfing.  But for hard-core enthusiasts, one name has become legendary:  Chicama, which, as the town proudly proclaims on a sign as you enter, has 'the longest and most perfect left-handed wave in the world'.

The Chicama wave is so long that if you surf its entire length, you need a shore-taxi or water-boat to ferry back you back to the beginning. Moreover, as one local told me as I stood in awe watching it, 'it's like a Disneyland wave – it just rolls out from the end of the point again and again and again.  It's so reliable.'
The cliffs above are full of onlookers checking out whether it's a quiet day on the world's longest left-handed wave or, as one Californian surfer put to me, 'so crowded it's like being in a zoo, dude.'
Young Peruvian surfer Cristóbal de Col once managed famously to do no less than 34 'manoeuvres' , i.e. twists and turns, on the same Chicama wave – a feat immortalised on YouTube.  But then he was Junior World Champion a few years ago.
I managed to track Cristóbal down at his home where he must have something like fifty different surfboards for every occasion.  Curly-haired and just 22 years old, he has the attractive, wide-eyed gaze of someone who spends a lot of time on the ocean.
'Yes. Chicama is what we call "a corduroy wave",'  he told me.  'The ridges just go on forever.  So if you miss one, there's always another coming up! When I was young, it was like a skateboard park for me, as the wave would be always there, as if it was set in concrete.'
'We are surfing millionaires here in Peru.  There are just so many waves.  So there's plenty to spare for visitors.'
Cristóbal's vivacious mother Marcela joins us.  'Attitudes to surfing have changed so much. When I started dating Cristóbal's father, who was also a surfer, my family were appalled.  'All surfers are losers and bums,' they told me. I married him anyway.  And now everybody wants to be a surfer.  It's almost respectable.'
Cristóbal looks a little worried at the idea of surfing becoming respectable – not very rock 'n' roll – but he does think it's incredibly therapeutic.
'I had a lot of stress in my life a couple of years ago.'  (His father died in a tragic plane accident).  'And surfing was the way for me to cope with that.  You have to live so much in the moment – as if it's the first time you've ever been on a wave.'
Laid-back and chilled – his favourite musician is Bob Marley and he practices meditation – Cristóbal exemplifies everything that is best about Peruvian surfing.  Although he has competed impressively at international level, he is also a freestyle surfer who loves to find the wildest places, of which there are many still hidden in Peru.
On my last day I head out from Chicama to some of the smaller bays up along the coast.  At Puémape, just inland from some rice paddies and asparagus plantations, I come to a tiny fishing port with a point break that is the best wave I have yet seen in the country, unpeeling with metronomic and tubular perfection, watched by only a few fishermen.  My taxi driver, used to the demands of surfers, just laughs.  'No one you tell will ever believe what a perfect wave that is.'  And he's right.  You had to be there.  Dude.
---
Hugh Thomson is the author of two acclaimed books on Peru, The White Rock and  Cochineal Red:  Travels through Ancient Peru.   He has led several expeditions to Peru to look for – and find – Inca ruins
A version of this article first appeared in the British Airways High Life magazine