Salsa nights in Colombia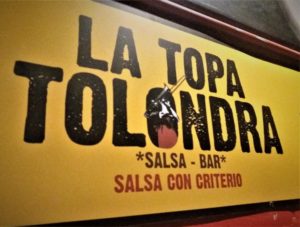 The big black guard outside the Topa Tolondra salsa club is built more like a security truck than a man. But the intimidating effect is offset by his spectacles and affability. "Welcome to Cali – salsa capital of the world," he tells us. And does a few moves.
If there's any doubt that we've arrived at the Holy Grail for all salseros, there's a giant mural over the dancefloor based on Leonardo's 'Last Supper'; but with Oscar D'León, Rubén Blades and Johnny Pacheco taking the role of the disciples clustered round Ismael Rivera (the Puerto Rican who made salsa such a street sound). A young Celia Cruz is the only woman at the feast, resplendent in a red ball gown with a smile that could light up Cuba, if not entire planets.
They look down upon a cavernous dancefloor that is already shaking to a heavy bass and insistent marimbas. It's Tuesday and only 10 o'clock, so the place is relatively empty. "Come back at the weekend, and it will be so crowded, 'no bailas – sino que te bailas,' says one of our guides, Danilo Uribe: 'you don't dance – you get danced.'
There's a young couple gliding around to a bolero, a man in a white suit, his partner in a bright yellow dress.  He has his eyes closed while she does some elegant, intuitive moves, sashaying her hips around him. 'She teaches tango as well as salsa,' Danilo tells me.
Danilo and Natalia Diaz have come to show us the city's best salsa spots and tactfully allay any Anglophile nerves. They can see that it might be intimidating to step out among the couples already showing off their salsa moves. But a shot of Colombian rum – to calentarnos, 'heat us up' – and we are away to a fast Cuban timba with a fabulous metronomic beat that sounds like one of the local woodpeckers trying to hammer its way out of the speakers.
Both my girlfriend Jocasta and I love dancing salsa, but in the more rough and ready style of a London club. Natalia partners up with me to polish up my technique, while Danilo glides off with Jocasta to do the same. Over a couple of songs, Natalia teaches me the importance of the crucial 'pausa', the pause you give on the fourth beat, before taking off again with what is the simplest of dance steps. The 'pausa' is what gives drama and precision to what otherwise would just become a soft-shoe shuffle.
It's easy enough to master. For those starting from scratch, there are more than a hundred salsa academies all over the city, many catering for foreigners, as agencies like Plan South America can arrange in advance. And then it's about what you don't do: don't make the white boy mistake of moving your shoulders too much – it's all in the lower half of the body; and keep it light, fast and fun. If you want to dance seriously, keep to the ballroom waltz.
Natalia was singing along loudly to the lyrics of each song, as were half the punters in the club. Three women nearby, dressed up to the nines in spangled dresses, were banging the table to the beat at the risk of spilling their drinks. As Natalia told me, salsa lyrics run deep in the heart of Cali, a city with one of the largest black populations in the whole of South America; only Bahía in Brazil has more. In colonial times, it lay on the route between the slaving port of Cartagena and the plantations down the Pacific coast.
While the music may be light and uplifting, the lyrics are often drawn from the experience of those slave plantations, and tell of hardship as well as love. Like blues in the States, the music has deep roots.
We were dancing to 'Las Caras Lindas' by Ismael Rivera, which has become a popular Cali anthem and tells of the overlooked beauty in black women's faces. Other songs describe going to work the sugar cane in the 'oriente' of Cuba. Which is not to say that salsa can't have its 'la vida es carnival' moments, in the words of Celia Cruz's famous hit. One celebrated lyric has the singer Hector Lavoe exclaiming, 'if she cooks like she walks, I'm going to eat every last scrap!'
How Cali became such a mecca for salsa is largely due to the Cuban revolution and Colombia's own cocaine wars. After 1959, when Castro closed down some of the Mafia-run nightclubs in Havana, many musicians like Celia Cruz decided to leave. While New York provided record labels like Fania, it could not guarantee large enough audiences and so Colombia with its Afro-Caribbean population was a natural place for the music to prosper.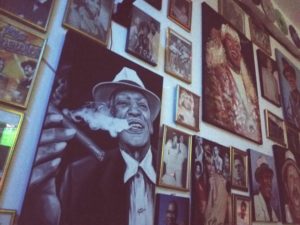 The influence of rock music helped electrify the 'salsa boom' of the 1970s, which was further fuelled by Colombia's 'cocaine boom' of the same period. Cali in particular became the salsa party town; by contrast Medellín always had a stately, upcountry feel – more like Nashville to Cali's New Orleans. The cocaine barons who infamously dominated Cali back in the day could afford to bring in the very best musicians from Puerto Rico and New York. But the music was far more than just a soundtrack to Narcos.
'Cali has always been a city that lived to dance,' Natalia told me during a break from my salsa instruction. 'My grandparents loved slow boleros and the guaracha, but there was something about salsa when it arrived that tuned so much with the mood of the city that the whole place seemed to go into dancing overdrive. As a young girl, I could easily go out to dance every night of the week. Everyone did.'
.
Natalia grew up in one of the city barrios that were no-go areas for the police. As a young girl, she had seen no less than three of the salsa 'play-offs' when rather than resolve a fight with violence, gang leaders challenged each other to a salsa duel. Each man would dance solista against each other to see who got the popular acclaim. The first two times this resolved the dispute. 'The last time it didn't and the crowd fled while the men reached for their machetes instead.'
That violence has now of course receded and Colombia has become a tourist destination of choice – although Cali maintains a rougher, more vibrant charm to the more manicured  feel of Cartagena, which these days even boasts its own Hay Festival.
Clubs like Topa Tolondra used to have a sign telling customers to hand in guns at the door. That's long gone. But what has remained is the fantastic energy. I haven't seen a dance floor kick off with such wild abandon for a very long time. By the time we hit midnight, Jocasta and I were dancing fit to burst – although remembering to put in the all-important 'pausa' beat – and the margarita count was mounting.
Before we could get too pleased with ourselves, Natalia pointed out that a true Caleño salsero was expected to dance right through the night and then go swimming in one of the city's seven rivers at dawn, before eating a traditional breakfast of sancocho, chicken stew. And head out to relax in the country for the rest of the day.
For Cali is perfectly positioned to explore the wild landscape of the south of Colombia. We set off for the hills of the Parque Farallones, a nature reserve that extends from the Sierra Occidental right down to the Pacific coast. At a small farmhouse called El Doble Espiral, 'The Double Spiral', owner Carlos Castaño, 52, has created a 'small is beautiful' retreat with organic vegetables: humming birds flit around the hammocks and the cabin on stilts where you can sleep. We got to swim in a river as Natalia had suggested – the small mountain rock pools of the Rio Meléndez – and could walk through the cloud forest.
Carlos is part of a new wave of Colombians trying to reoccupy a countryside largely depopulated by the long civil war; this area saw particularly heavy fighting. He has set up a community farm market to try to bring a shattered neighbourhood back together. We spent a long evening over arepas and roast bananas discussing the future of this beautiful but long troubled country.
Then we headed on to the old colonial town of Popoyán, whose whitewashed walls have nurtured no less than 28 future Colombian presidents, for a lunch of patacones, fried bananas with cheese. Our driver had a memory stick with some 750 salsa songs, so we had plenty of time to sample them as we drove over the high moors of the páramo, with their espeletia sunflowers and volcanoes.
Our final destination was one I had long wanted to reach but been frustrated by the security situation: the pre-Columbian site of San Agustín, with its iconic statues. Buried in elaborate stone tombs by a culture we still know surprisingly little about, these figures of chieftains and shamen were carved from the local volcanic stone. It is again an area that is just opening up to tourism: a new German-run hotel, the Monasterio hacienda, has fabulous views over the rich coffee growing area that surrounds the ruins.
We flew out via Bogotá and as is obligatory – quite rightly – made a stopover at the famous Gold Museum, started by a local bank when they realised that the artefacts being found and melted down by some of their customers were more valuable if preserved. Maybe it was because even days after the Cali club, I still had salsa tunes ringing in my head, but I couldn't help noticing that the elaborate gold coca-dippers had dancing figures on their ends. And that there were gold marimbas and percussion instruments. The origins of Colombia's obsession with music go very deep indeed.
——————————-
This article originally appeared in the Financial Times
all photographs (c) Hugh Thomson 2019