Salsa Nights in Colombia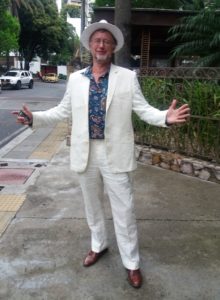 The big black guard outside the Topa Tolondra salsa club is built more like a security truck than a man. But the intimidating effect is offset by his spectacles and affability. "Welcome to Cali – salsa capital of the world," he tells us. And does a few moves.
If there's any doubt that we've arrived at the Holy Grail for all salseros, there's a giant mural over the dancefloor based on Leonardo's 'Last Supper'; but with Oscar D'León, Rubén Blades and Johnny Pacheco taking the role of the disciples clustered round Ismael Rivera (the Puerto Rican who made salsa such a street sound). A young Celia Cruz is the only woman at the feast, resplendent in a red ball gown with a smile that could light up Cuba, if not entire planets.
They look down upon a cavernous dancefloor that is already shaking to a heavy bass and insistent marimbas. It's Tuesday and only 10 o'clock, so the place is relatively empty. "Come back at the weekend, and it will be so crowded, 'no bailas – sino que te bailas,' says one of our guides, Danilo Uribe: 'you don't dance – you get danced.'