Embrace of the Serpent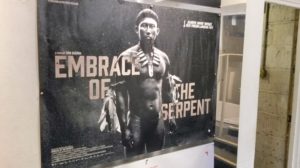 .
Nominated for an Oscar and already much feted, Embrace of the Serpent can now be seen in British cinemas and is a revelation.
The masterstroke is filming the Amazon in black and white – counter-intuitive but brilliant – and letting the strange dreamlike journey play out along the river.
I am less certain that the dual narrative – many decades separate the two different storylines – works quite so well, and at times the anthropology can creak at the seams, but at its best, this is an odyssey along the most serpentine of all rivers, with many way-stations and dangers for the travellers in their canoes.
The Colombian director, Ciro Guerra, is not afraid to allow strange epiphanies to creep in:  a comet passes overhead at one point, lighting up the dark faces of those below; the torches of mission children are like fireflies in the night. The photography throughout is both numinous and luminous, shot on Super 35.
There's been some discussion about the historical background to the film.  The producers say that 'the film was inspired by the real-life journals of two explorers (Theodor Koch-Grünberg and Richard Evans Schultes)', but anthropologist have already been quick to note the discrepancies:  Koch-Grünberg, for instance, had no interest in hallucinogenics.  The historian John Hemming has pointed out to me that the brilliant and disturbing depiction of the messianic shaman with his own cult is based on Venancio Christo, active in that region from the late 1850s to early 1860s – half a century before Koch-Grünberg and a century before Schultes.
But as an imaginative interpretation of the spirit of the Amazon, this film must surely be hard to beat. And while Fitzcarraldo had previously set the benchmark, that was a film about the European psyche; this tries to be one about the mindset of the South American Indian.