The Dig – A triumph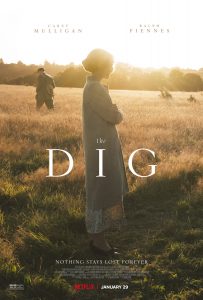 So archaeology can make for a great movie. Don't be put off by the rather patronising review in the Guardian or some carping criticism about historical accuracy. The Dig, streaming from today as cinemas closed, is an excellent film and worth catching. I wouldn't be at all surprised if it gets a few BAFTA nominations and deserves to.
I did initially approach with suspicion as to whether it was the sort of quiet English period piece which would irritate me for being underscripted and too pleased with itself. Like too much Sunday afternoon television. But this tale of the discovery of the Sutton Hoo Anglo-Saxon longship in a Suffolk field just before the war has a quite unexpected and moving performance by Ralph Fiennes – a career best – playing a deep East Anglian countryman with not just the accent, but the staggered delivery that makes the Suffolk voice so memorable. He apparently had a lot of training in 'suffolkation' from local expert Charlie Haylock, and it shows.
And he's not the only reason to see it.  There is some unusually fine ensemble acting, helped by the fact that the Australian director Simon Stone comes out of experimental theatre where he has been much heralded; this is his first film and he manages to get some subtle performances all round, leaving in the silences, helped by a good script from the successful novel by John Preston.
The cinematography also manages to get a great deal out of beauty out of the flat Suffolk landscape that others often pass by.   I learned to sail up and down the River Deben not far from the Sutton Hoo site and I have always loved the area (The Suffolk coast: 50 years on from my childhood holidays).
Nicole Kidman was originally slated to play the female lead until almost the beginning of production, and would have been a big box office name (although would the Americans have needed subtitles for Ralph Fiennes?) But she then dropped out, leaving them in the lurch – so, in the space of one frantic weekend, they got in Carey Mulligan, who plays the widowed owner of the Suffolk land on which the longships are found well, probably better than Kidman ever would have. She could easily be up for two nominations, along with her diametrically different Promising Young Woman performance.
But the real reason for seeing it is that films about archaeology are intrinsically hard to pull off – digging laboriously in the soil is not very cinematic – and this one really works. The sense of deep time as contrasted against the pressures of the present are brought out. 'From the first human handprint on a cave wall, we are part of something continuous," as Fiennes's character says. There is a very clever play on the way that no one is interested in excavating the barrows when they think they might contain nasty Viking invaders, but as soon as they realise they might be 'our Anglo-Saxon boys', it's game on for the British Museum.
The Guardian complains petulantly that it doesn't fulfil the usual narrative expectations of girl meets boy, but that's a strength not a  weakness – the laconic style worked beautifully for me and that's not just because I'm a natural sucker for anything to do with Suffolk, although I am. When I used to spend holidays there as a boy, they always pronounced my name 'Oo'.
And I'm not too concerned by some of the fictional compression. The actual dig took place over two seasons, in '38 and '39; some artefacts found on one mound were moved to another; Peggy Piggott, who makes the first discovery of a gold object in the burial chamber at the centre of the longship, was less of an archaeological ingenue than the film implies.
But I do find it oddly disturbing that the marriage between Peggy and Stuart Piggott, portrayed here as fleeting, with them arriving from their honeymoon and parting shortly otherwise, actually lasted 20 years. It had begun some years before Sutton Hoo and only ended in 1956. Nor is there any substantial evidence that Piggott himself, who went on to have one of the most impressive careers in British archaeology, was gay, as the film suggests. This does seem quite a licence to take with people's real lives, even if it makes for some dramatic tension (Peggy can then be attracted to a young RAF pilot, a fictional character invented for the novel).
That's a quibble. Far more important is that this shows how novels and indeed films about archaeology can generate considerable dramatic tension and I speak as someone who's been working on an archaeological novel about Peru for the last 10 years. So yes I have an interest. Let's hope it wins some Baftas! And – if they can understand Ralph Fiennes' 'suffolkation' – perhaps even an Oscar as well…
———————-
The Dig is streaming on Netflix
There are some interesting photos comparing the actual dig to the film version at this British Museum blog.
John Preston also wrote the book about Jeremy Thorpe that was turned into A Very English Scandal with Hugh Grant.
The Sutton Hoo Ship's Company have a current project to build a full-size replica of the 90 ft longship, so that it can be sailed.