The Lost City of Z:   How to Make Enemies in the Jungle
This is a longer version of articles written for both the London Evening Standard and the Washington Post when The Lost City of Z was released . 
"Writer and explorer Hugh Thomson argues that new movie The Lost City of Z gives a totally false impression of its real-life hero."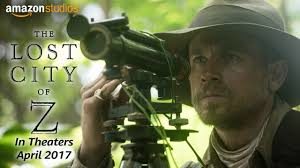 With many a jungle drum, this week sees the release and promotion of The Lost City Of Z.  Based on the bestselling book of the same name by David Grann, the film proudly proclaims that it is 'based on an incredible true story' in which heroic British explorer Percy Fawcett (Charlie Hunnam) 'journeys to the Amazon and discovers the traces of an ancient, advanced civilization'. And yet it is a quite bizarre distortion of the truth.  
The exploration of the Amazon has been one of the epic undertakings of the last few centuries and is still ongoing: uncontacted tribes are still being found in the jungle.  It has seen many heroic figures. But Fawcett was not one of them.