The Marches by Rory Stewart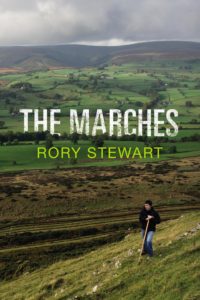 Thomas de Quincey calculated that Wordsworth walked a staggering 175,000 miles during his lifetime.
He was almost constantly on the move, composing as he went, 'to which,' de Quincey added, 'we are indebted for much of what is most excellent in his writings.'
To put this in context, the circumference of the globe is only 25,000 miles. So Wordsworth could have walked seven times around the planet.
Walking in Wordsworth's day was the act of a radical; it was to ally yourself, as the young poet wanted to do, with the peasant and the peddler. While more aristocratic artists of the day might take the Grand Tour by coach to Italy, he chose to walk through France during the year of its revolution. To feel connected to the world and people; to make an atlas of his own feelings and spiritual progression.
Rory Stewart follows in that mould. His first book, the acclaimed The Places In Between, saw him walking right across Afghanistan just weeks after the fall of the Taliban, an adventure that was both brave and revelatory.  And this was just the beginning of a far longer walk that saw him cross Pakistan.  He went on to further adventures in Iraq where he was appointed a governor after the invasion and wrote memorably about the fog of ignorance that pervaded that administration.
Now he has come home, so to speak, to Wordsworth country.  In The Marches, he has written an account of a walk across and around England, beginning with a traverse along Hadrian's Wall, built when a Roman emperor wanted to keep out alien migrants.
The wall took 20,000 men more than a decade to build. It required more stone and labour than the pyramids.  As Mr Stewart walks along what remains of the wall – for much of it was later quarried for use elsewhere – he imagines it, 'stone by stone, stretching fifteen feet high, entire  and intact, from coast to coast, running straight up hillsides, down gullies and over cold rivers'.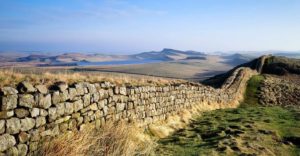 .
.
However, and with obvious resonance for the wall that may divide America now, he is quick to point out that Hadrian built it more as political symbol than practical barricade. Indeed, archaeologists concur that it was far from being effective, was 'porous' and after a while, may have been most useful as a way of employing otherwise idle troops in wall maintenance.  It became 'a zone of cultural exchange and encounter rather than a military barrier'.
The trope of the travel writer who returns to describe his own homeland as if it were another foreign country has become a familiar one – exemplified most recently by Paul Theroux, whose Deep South was a prescient account of the forces beginning to stir there.
So it is natural that Mr Stewart should find echoes on Hadrian's Wall of his own experiences in Afghanistan and Iraq.  Britain sucked in Roman troops. It was considered an exceptionally difficult province to govern.  The wall was a radical solution to a grave problem.  The Romans struggled to hold Britain with 50,000 men – the equivalent proportionately, says Mr Stewart, of the Allies keeping half a million troops in Afghanistan. 'The problem was simply that the occupier lacked the knowledge, the legitimacy or the power ever to shape such a society in the way that it wished.'  A judgement he makes equally about the Romans then and Afghanistan and Iraq today.
He remarks too on the way in which the Romans drove the wall across often unsuitable landscape: 'It looked like the straight lines drawn across flat ground by colonial officers in Africa.' Not that he is wholly concerned with the past.  The area he walks through is now one of the most deprived in Britain, with high unemployment rates, and voted heavily for Brexit.
For much of the walk along Hadrian's Wall, Mr Stewart is accompanied by his 89-year-old father, an ex-service man who injects a bluff candour to proceedings and is one of the book's many strengths.  With great affection and frankness, Stewart charts both their present and past relationship;  the book could almost have been subtitled 'A Walk Around My Father'. At one point, discussing the wall, the author realises that his father sees it, not as a way of keeping the barbarians out – as most commentators do – but as a way, rather like the Berlin Wall, of keeping the Romans in. He had, after all, been a Cold War intelligence officer.
Stewart's  prose throughout is cool and lucid, with the odd touch of self-deprecating humour. But there is a lot of it. Just as I suspect no reader has ever wished that Wordsworth had written more, so here too even the most loyal of followers may limp in a little footsore by the end of the day.
The problem with The Marches is that having crossed England coast-to-coast along Hadrian's Wall – more than enough for most travel writers – Mr Stewart then embarks on a series of further walks for some thousand miles.  The accompanying map looks like a spider's web. Much of what he later encounters is fascinating but not particularly germane. Now that he is a local Member of Parliament for the area, he may have felt he had to cover most of his constituency.   He certainly doesn't seem to know how to stop.
This could and should have been a much shorter book. However, perhaps that's only to be expected from a long distance walker. I'm sure any of Wordsworth's disciples who complained about having to do ten miles before  breakfast were told, briskly, 'oh for God's sake.  Just keep up!'  And, like Wordsworth, Rory Stewart brings a humane empathy to his encounters with people and landscape.  A walk, he believes, is a kind of miracle – which can help him learn, like nothing else, about a nation or himself.  He is precisely the sort of companion one would want to travel such a route with:  informed, engaged and with a great deal of compassion.
A version of this review first appeared in the Washington Post