In Memoriam – Michael Jacobs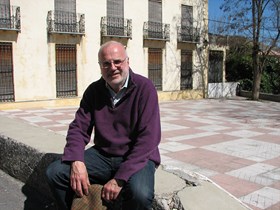 Deeply saddened by news of Michael Jacobs' sudden death a few days ago, from cancer of the kidney which was only diagnosed in September.  He was 61.
Michael was a good friend and very kind man.  A dedicated hispanophile who lived in Andalucia, he wrote many books about both Spain and South America.  For my money his very best was his last, The Robber of Memories, a quite magical account of travelling down the Magdalena river in Colombia.  I reviewed it when it came out last year:
"Subtle and precise, it may well be Jacobs' finest work after a lifetime of studying the Hispanic world. This is travel writing at its best, with the memories a country creates about itself weaving with those of the author for a journey that pulses with an elegiac, penumbral light."
My daughter Daisy also interviewed him for Isis Magazine at Oxford and ended her piece by saying:
"For Jacob, travelling creates memory and it is these memories that keep us alive and moving forwards.  As Jacobs says, 'It is our memories that sustain us in later life.' "
 He will be much missed.
PS FEBRUARY – since this was written, a fine obituary has appeared in the Independent by Barnaby Rogerson