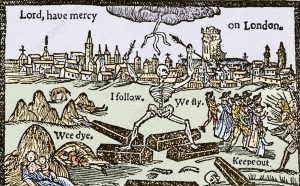 All those writers buried away in self isolation and trying to describe what we are all experiencing could do worse than turn to Thomas Dekker's 'A Wonderful Year', his account of living through the plague in 1603.
Dekker was a young playwright around town in Shakespearean London, very much on the make, and constantly in and out of trouble and prison for debt.
.
Come the plague in 1603, and all the theatres closed – lockdown was always immediate if deaths from the disease reached just 30 a week – so Dekker turned his hand to pamphleteering to make ends meet.
The challenge was to attract a readership who might not want to be reminded of what they were only just escaping when the pamphlet came out. Dekker's answer was to try to make much of it as funny as he could: 'If you read, you may happily laugh; tis my desire you should, because mirth is wholesome against the Plague.' Read more…