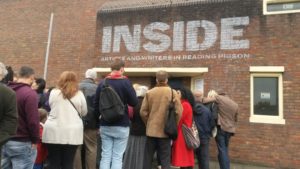 A visit to the memorable Artangel installation at Reading Gaol, that most Victorian of prisons with its red-brick cruciform shape and wire-grilled segregation.  I filmed 'Oscar' for the BBC here when it was still an active prison some 20 years ago; it closed in 2013 and is now scheduled to be sold off.  But before it is, Artangel have continued their bold and imaginative curating of art spaces that no one normally reaches by getting artists and writers like Ai Weiwei and Anne Carson to leave messages in the cells that reflect Oscar Wilde's incarceration here.  The finest of these offerings by far comes from Steve McQueen – a sculpture in which a prison bed is swathed in mosquito nets like a cocoon of the imagination.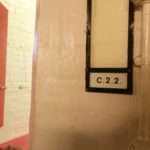 I revisit Oscar's cell – C.2.2.  When I filmed here, it was being used by two inmates so was even more crowded than in Wilde's day – although he had to endure a harsh regime of physical labour.  'The most terrible thing about it is not that prison breaks one's heart – hearts are made to be broken – but that it turns one's heart to stone,' as he wrote in De Profundis, his book-length letter from the cell.
On the day I visit, Patti Smith gives a three hour reading from De Profundis in the prison chapel.  She sings a short burst from two songs at the opening and close – first from Nina Simone's  'Wild is the Wind', then from her own 'Wind'.  There are sections of the letter where, as Patti admits ('What did that last bit mean?  I have no idea…') Wilde can lose the reader as he goes off on wild and lonely tangents.  But there are also passages of haunting beauty: 'I threw the pearl of my soul into a cup of wine.'  It is a fitting tribute and one Patti delivers with passion and empathy.
.
Oscar, the film I made with Michael Bracewell for the BBC, is still available on iPlayer