some time on Sunday night  
I'm both exhausted and exhilarated by the end of proceedings.  The final poets' dinner on Sunday night ends at about two in the morning. 
If there has been a noticeable intensity at Aldeburgh compared to other poetry festivals,  it derives from one unusual component — no poet is ever invited back.  
This isn't because in some ways they might have failed a quality threshold.  A strict policy is in place only to invite those who've never read there before.  This lends the proceedings an intensity they would not otherwise have.  Poets have one shot at getting an Aldeburgh Festival reading right. 
The same goes for the organisers.  Every year they have to start at the bottom of the mountain and select new participants. 
I'm reminded of those Buddhist monks who spend months laboriously making sand mandalas from small grains and then blow them to the wind.
.
Sunday 18.00  Don Paterson's earlier lecture on Frost proves a terrific curtain raiser for the later reading by Marie Howe, as it is noticeable how many of her poems are framed as dialogues rather like Frost's.  The elegy for her missing brother is just one of many fine poems. 
She makes a striking figure on stage with her Botticelli hair.  Indeed this year's 'best poetic hair' prize is awarded equally between her and the long-locked Matthew Caley.  I'd love them to do a shampoo ad double-act together, swinging their impressive tresses as they duetted on a country and western song, or pastoral eclogue.  Who says that all poets are bald and need to wear berets? 
Bill Manhire is less hirsute but still very effective.  He concentrates on those works of his that lend themselves to public performance, with strong rhythm and rhyme.  You might think that most  poets would follow this obviously sensible line.  Or series of lines.  But they don't. 
His elegy for Charles Causley is just the first of a string of emotionally intense poems,  hypnotically delivered.  His voice has an attractive incantatory quality, whether listing his possessions as a small boy on New Zealand's South Island, or howling at the moon down a lift shaft in Copenhagen. 
The perfect choice to close the festival, internationalist, accomplished and passionate as it has been.
.
Sunday 14.00     I've had 2 cups of 152's excellent cappuccino and so am ready for the highly caffeinated lecture on Robert Frost by Don Paterson.  We are still at warp speed and every word is worth unravelling and playing back at 33 rpm. 
The bulk of his lecture is on Frost's poem 'West-Running Brook'.  While some critics have decried the rhetorical staging of this as a dialogue between husband and wife  as clumsy, Don admires what he sees as the resulting subplot of 'how people in love talk to one another'.  Perhaps naturally, given that he has just published his account of Shakespeare's sonnets, he finds Shakespearean echoes in some lines – like 'And even substance lapsing unsubstantial', while also being drawn to Frost's nihilism and 'the aphoristic, demotic and plain-speaking nature of his verse which omits the extraneous, leaving itself nowhere to hide'. 
He sees Frost's  poetry as 'an intellectual and emotional provocation to which we are challenged to respond in kind'. The same could be said of Don's rigorous criticism.  
Not quite sure about his pronunciation of 'contraries' though.  Surely to rhyme with 'Compare-is'? Readers with New England accents are invited to write in……..
.
Sunday am    It's nine o'clock in the morning and I'm trying to move at speed to the White Lion to give my own talk on poetry and travel writing, together with Harry Clifton.  Unfortunately the wind is so strong that for every two steps I take, I'm one step back, and there isn't any music playing.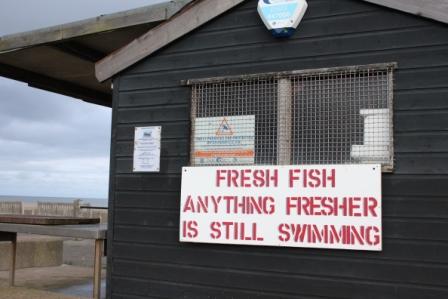 .
'Fresh fish – anything fresher is still swimming,' reads the logo on the side of the shack that sells them on the beach.  I can't quite say the same about myself, but at least I haven't got a hangover, and Maggie at the Poets House has fed me plenty of black coffee and bacon sandwiches, so the brain has started to kick in.  
.
Have 250 people gathered to hear us?  Well not quite.  But for early Sunday morning it's a brave turnout, as Harry says.  We talk about how when travelling some experiences seem to lend themselves either to prose or poetry;  of how Byron was in some ways an early travel writer, appealing to the stay-at-home British public ( who had to stay at home – it was the middle of the Napoleonic Wars) with his tales of Mediterranean pleasures;  of 'The Odyssey' as the first travel poem;  of the celebration and exhilaration of travel but also of its own concomitant hangover, jet lag:
.
Jet Lag Blues
Two o'clock in the morning, punched
inside out,  jet-lagged  from Los Angeles
via London, face pressed against
the pillow with unnatural gravity,
like a safe-breaker listening
for the combination to give,
I feel the ground much closer,
almost moving,
and want to twist the world's tectonic
spine, the way a chiropractor snaps
a patient's back, so I no longer lie
divided on my own fault line.
.
The Aldeburgh Poetry Festival blog is sponsored by Writers' Centre Norwich,a literature development agency for the East of England running workshops, competitions, events and more. www.writerscentrenorwich.org.uk