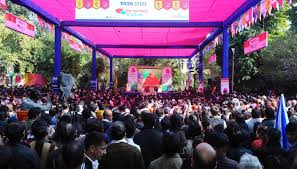 The Jaipur Literary Festival is an extraordinary occasion. Nothing I had heard about it had quite prepared me for the reality. The numbers are staggering. 350,000 people attend over the five days, so roughly twice the attendance of Glastonbury. Not only are there 400 writers, but there are 400 volunteers just to look after them – which is more than most British literary festivals in small market towns get as an audience.
The energy and intensity is a lot of fun. There is a much younger profile than British literary festivals with plenty of sidebar marquees to dance in.  And of course a fair amount of partying.  The Ajmer Fort is lit up for a spectacular evening of music at night. While the Writers Ball at the end sees a great deal of glitter and splendour.  Can't believe how much Talisker and Scotch the Indian writers put away.
But  the talks were the main events and gathered big audiences. A fascinating one about Bruce Chatwin with William Dalrymple, one of the presiding spirits of the festival, Nicholas Shakespeare as Chatwin's biographer and Redmond O'Hanlon as Chatwin's friend.
I was asked to do no less than five sessions over the festival, which is going some by my usual standards and really enjoyed every one.
Here I am talking about my Nanda Devi book which, for reasons I explain has only just been able to be published in India – 30mins to 40 mins into programme, just after William Dalrymple.
And this was a really enjoyable session on the current vogue for nature writing with Adam Nicolson and Alexandra Harris, during which all of us in different ways claimed not to be nature writers anyway, but this didn't stop us having a very lively discussion.