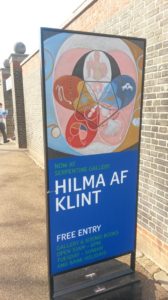 Regular readers know that this blog occasionally touches on great art exhibitions I chance across, but rarely, as frankly there aren't that many of them about.
But the new exhibition at the Serpentine of the 'lost' Swedish artist Hilma af Klint (1862–1944) is definitely worth celebrating.
Although a pioneer of early abstract art – predating Klee, Kandinsky and many others – she was only rediscovered in the 1980s, as she worked well out of the mainstream. Fearing that she would not be understood, she stipulated that her abstract work should be kept hidden for 20 years after her death. After a few exhibitions around the world, she is now being hailed – rightly – as a maverick and visionary.  Both qualities I value.
Not unlike Yeats and some of the Surrealists, she wove together spiritualist sources that we might now find dubious, from Mme Blavatsky to her mentor, anthroposophist Rudolf Steiner, to create art of luminous integrity.
Her abstract paintings, perhaps because she was making up the rules as she went – and she was not part of the 20th century mainstream – feel very different; perhaps her nearest equivalent would be, much later, Sonia Delaunay.
The Paintings for the Temple sequence – which af Klint thought she had been 'commissioned' to paint by a celestial entity named Amaliel – are at their most magnificent in the eight large paintings celebrating the passage of life which fill the central gallery at the Serpentine.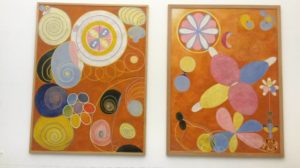 The looping circles of colour are matched by her similarly looping handwriting, as if giant pages from a molecular notebook on life – and she worked for a while as a draughtswoman at the veterinary institute in Stockholm in 1900.
To stand in this gallery was one of the most intense artistic experiences I've had for some time.