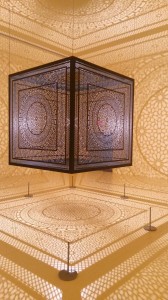 Excited to be in Salem for a remarkably innovative weekend put together by Sona Datta and her colleagues at the Peabody Essex Museum.
As some readers may remember, I made a series for the BBC with Sona last year – Treasures Of The Indus – for which we travelled to Pakistan and India.
Now Sona is not only having a screening of the films for an American audience, but has tied it into a new exhibition by the talented Anila Quayyum Agha, who has created an installation that conjures up the spirit of Spain's Alhambra Palace, where a thousand years ago Islamic and Christian traditions thrived in coexistence.
A square black cube of steel weighing some 600 lbs has been laser cut by Anila into filigree work like that of a jali screen, so that the light from a single bulb inside creates a shimmering effect around the yellow room.  (I did ask her how she was ever going to change the bulb…)
And Sona is also putting on a Night at the Museum party, hosted by my old friend Bee Taylor and his House Of Honey collective, when more light projections will be played around the atrium of the building itself.
The fact that outside it's blowing a Boston snowstorm won't stop some determined partying.