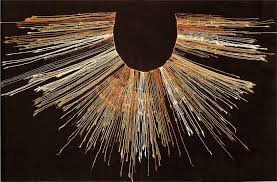 .
Of all the ancient civilisations, we know least about Peru because, as an illiterate society, they had no writing. They did, however, leave quipus, elaborate knotted cords mentioned by the Spanish chroniclers, which have still not been fully deciphered.  These remain one of the most tantalising challenges in archaeology.
.
There are around 600 known quipus around the world, either in museums or private collections.  Some of these quipus follow a straightforward numerical pattern, as if itemising goods.  Others are more random and difficult to interpret.  And even with the numerical quipu, we have no way of knowing what the numbers refer to, as for the vast majority there is no provenance – the quipus have arrived in collections from dealers, from the booty of conquistadors, from looted tombs, or by accident.
Until now.  The team led by Harvard's Gary Urton has been looking at some quipu discovered recently near the goods they may have itemised – a potential breakthrough, if not, as he is careful to say, a Rosetta Stone.  The quipus – or khipus  – were buried under the remnants of centuries-old produce, which was preserved thanks to the extremely dry desert conditions.
We long for the pre-Columbian civilisations to be able to speak to us direct from beyond the grave:  is there some Homeric tale, some Peruvian Gilgamesh, of which we know nothing? Yet there is a danger that our overwhelming desire for the quipu to be proved a form of language could force us into unnatural contortions to prove that what may still just be an accounting device is actually much more.
see Cochineal Red for a more detailed discussion of quipus and other aspects of pre-Columbian civilisation (published as A Sacred Landscape in USA)