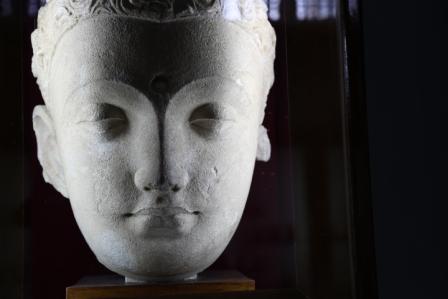 Seven years ago I visited the Buddhist heartland of Gandhara on my way to Afghanistan and determined I would come back one day to this part of Pakistan – and now I've been making a film there (one reason for the radio silence over the last couple of months as it's been a very intensive operation and fraught with security issues).
The quality of the sculpture produced by the Indo Greek kingdoms that followed Alexander the Great's incursions here in 326 BC is phenomenal – like this Buddhist head that I photographed in Taxila – with its mixture of classical, Persian and Indian influence.
Some of the Buddhist sculptures have been vandalised in situ and now need to be protected from Islamic extremists – or just as sadly some heads have to be removed from their torsos and taken to museums for safety, as it is usually the head that is vandalised.
We had problems filming here because some of the sites are close to nuclear and military installations so the ISI sent a heavy to follow us 'for our own protection'.
But as a chance to spend some time around the old monasteries and stupas, it was memorable and a reminder which the world occasionally forgets that the old Indo Greek kingdoms in what is now modern Pakistan were responsible for exporting Buddhism to Tibet, China and the Far East.