.
Having complained in an earlier column that most people celebrate the wrong solstice at Stonehenge – i.e. the summer one – when archaeologists think that it was built for the winter solstice, seemed only fair to go along today and see what might be happening. Even if it meant getting up at four in the morning to drive there.
.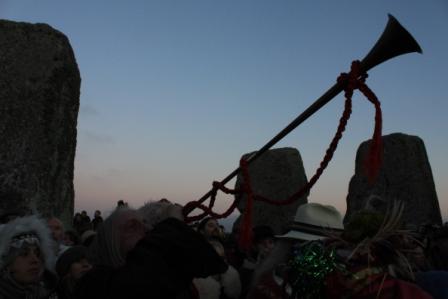 .
.
The Druids were out in force and drumming up a storm.  So were about 1000 more people, but nothing compared to the summer when you can easily get 30,000. Fewer people come in the winter because usually there's no sun – but today, despite the recent rains, it dawned beautifully clear.
.
One celebrant who came every year told me it was the first time she'd ever seen the sun for the solstice dawn.
Made for a great atmosphere.  Chief druid Rollo Maughling (Panama hat, below right) led some ecumenical prayers in which Gaia got the odd mention, as did the war in Syria and – an unexpected left field one – the centenary of the US membership of the IMF (I'm taking him on trust on this one).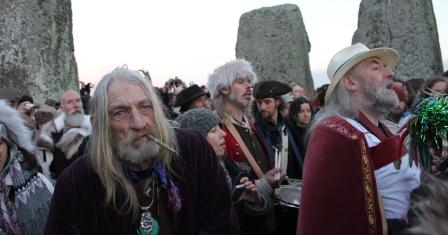 The odd friendly heckle from the crowd added suggestions for the service – like a spontaneous cheer in the honour of the late Sir Patrick Moore. Or a cry that went up at one point – 'give him some room, druid coming through' – when one berobed and bearded sage arrived late after  trouble parking on the A344.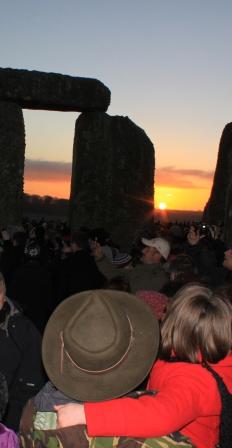 .
More by accident than design I found myself right by the drummers as they got going and almost got speared in the face by a stray dear's antler on the back of someone's mask.
.
But the moment the sun came up was a moment to melt the ice splinter in any sceptic's heart:  the stones warmed by the dawn, the music and the celebration.  As the self-styled King Arthur Pendragon, who has spent a lifetime campaigning for more open access to the stones and is now in his 60s, said to the assembled media, 'one can see the divine in the spirit of the place.'