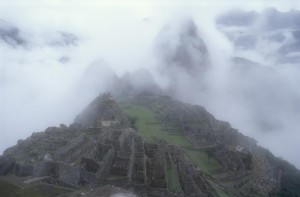 There is a good interesting roundup of current theories about Machu Picchu in the Peruvian Times in which the author, Rick Vecchio, sensibly doesn't commit himself too far in any particular direction…
…Unlike many of the guides at Machu Picchu who are still perfectly capable of telling you that this was where the Inca emperor hid his Virgins Of The Sun and that stone over there was where they sacrificed the black llamas.
.
For my own brief introduction to the interpretation of the ruins, take a look at the short film I did for CNN last year:  See Hugh's cut-out-and-keep 5 minute guide to Machu Picchu for CNN.
.
Then you'll understand why I prefer to use this picture of my own in which Machu Picchu is covered by cloud, rather than the usual sunlit panorama.  It's a place we still don't fully understand although we have recently gained some useful pointers.