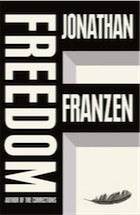 .
Like everybody else at the moment I'm reading Jonathan Franzen's Freedom. 
.
There have been many references to it as being Tolstoyan in ambition, partly because of its length and scale – the intimate lives of his characters played out against contemporary events like 9/11 –  and because the author references War And Peace himself once or twice in the text. 
But I think it's Tolstoyan in subtler, different ways:  Franzen seems to have the same ability to slip in and out of different characters' heads, particularly his female ones.  Few male contemporary writers would dare to begin their book with a long testimonial from their heroine, ranging across issues from motherhood to sex to her fraught relationship with her own mother.  In a way what Franzen has done very successfully is to take territory usually occupied by such brilliant North American female novelists as Alison Lurie (The War Between The Tates), Carol Shields and Anne Tyler and give it a male twist while preserving the intimacy of detail. 
He's also Tolstoyan in the way that when major events happen — one of his characters falls in love with someone they shouldn't have, or someone dies – he just lets them occur baldly in the narrative rather than building up an elaborate scaffold of preparation, as a lesser novelist might do.  What interests him are not the large stones dropping in the water but the ripples that they cast – and that while his characters may often rationally know what they should do (which man to marry, what not to say), events and random emotions may somehow compel them to do precisely the opposite. 
Are there any British novelists achieving a similar scale over here?  not that I can think of – although there is another question that interests me perhaps even more:  are there any that would want to? There is still a modernist agenda here which values formal ability – of the sort that David Mitchell for instance has so dazzlingly displayed – over the slow unweaving of characters' lives against an uncompromising historical background of the sort that Tolstoy would recognise.  
Not that Tolstoy, at the time of the centenary of his death (November 1910), is that much of an influence still in Russia itself:  when I asked a young Russian novelist in Moscow whether his generation viewed Tolstoy as an influence, he laughed and asked, quite fairly, whether Dickens was still an influence in Britain.  Although the fairer comparison might be George Eliot….