The Green Road into the Trees
In the past, Hugh  has written books of exploration about Peru, Mexico and the Indian Himalaya.
Now he returns to explore the most exotic and foreign country of them all – his own.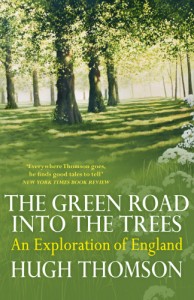 .
Reviews
'Frequently comic, his voice is original and engaging; proof that it is the walker, not the path, that counts'      
James Attlee, Independent [see full review]
'An ideal companion – knowledgeable, but refreshingly unpretentious'
Tom Robbins, Financial Times
'Vivid with tales of the people whose lives were, and remain, linked to the ancient route [of the Icknield Way]
Wanderlust 
'Often funny and always enlightening'
Candida Lycett Green, Countryfile  [see full review]
'I would love to walk with Thomson'
John Sutherland, Financial Times  
'A joy to follow' 
Jason Goodwin, Country Life 
'An immensely enjoyable book: curious, articulate, intellectually playful and savagely candid'
John Gimlette, The Spectator [see full review]
.
From the land-locked centre of England – locals claim that his village is the furthest from the sea – Hugh travels
out to its far edges. The Green Road Into The Trees is a journey enriched and partly told by the characters
he meets along the way. And the ways he takes are the old ways, the drover-paths and tracks, the paths and ditches
half covered by bramble and tunnelled by alder, beech and oak: the trails that can still be traced by those who know
where to look.
Just as in his acclaimed book about Peru, The White Rock, Hugh shows how older, seemingly forgotten cultures,
like the Celts, Saxons and Vikings, lie much closer to the surface than we may think; they have created some of
the fault lines of land, wealth and privilege that we still live with. In recent years, archaeologists have uncovered
some remarkable new findings about these cultures that have often yet to reach the wider public.
By taking a journey from coast to coast, through both the sacred and profane landscapes of ancient England,
Hugh casts unexpected light – and humour – on the way we live now.
.
Read an Extract:  'Why I wasn't Walking with an Animal'
.
Copy-editor's Letter about Finished Manuscript of Green Road
.
.