Treasures of the Indus – Filming in Pakistan
.
.
Before we went, Pakistan had always looked like it was going to be difficult. It took three months just to get the filming visas even though what we were making was not on a politically sensitive subject; we were there to explore the sometimes forgotten ancient history of the country.
.
.
.
Security was to be paramount. The mosque where we filmed sufi musicians had been suicide bombed in 2010 by the Taliban with the death of 42 worshippers. A few weeks after we had planned to film the border crossing at Wagah, where Pakistani and Indian guards try to compete with each other for the most militaristic display, it too was suicide bombed. While filming at several remote old Buddhist monasteries, we were interrupted courteously but firmly by security questioning our right to film.
The key to filming in Pakistan was, as ever, finding a fixer who could deliver – in our case Khalid Waseem, based in Rawalpindi, who came recommended by several other productions. This meant that most of the cultural institutions where we wanted to film did not charge a fee. In Lahore, they let us light up some of the Mughal palaces at night for some spectacular sequences and turned on all the disused fountains in the pleasure gardens. We were able to use drone cameras and satellite phones and, with an immensely experienced cameraman, Spike Geilinger, the drone cameras proved invaluable for getting an overview of large archaeological remains like the ancient Indus city of Harappa.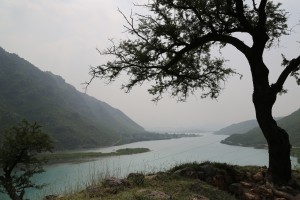 .
For one memorable sequence, we took boats across a remote lake in the Buddhist heartland around Gandhara – a fascinating area, which still shows the influence of Alexander the Great and the Greeks when they arrived and took this new religion to their heart.  Sadly, many of the old Buddhist sites have now been mutilated, but some of the small remote ones still survive.
.
Our presenter, Sona Datta, who has worked as a curator at the British Museum, knows Pakistan well. The dramas played out by the vanished cultures of the Indus – the battle with climate change, the clash of civilisations – are still being played out today and Sona and I both wanted to ensure the series addressed this; so we interviewed political commentator Ahmed Rashid as well as contemporary artists like the Biennale–exhibiting star of Pakistani art, Rashid Rana.
Lahore is one of those cities of the subcontinent like Old Delhi or Varanasi where a shot presents itself almost in every direction – particularly after dark, when what Kipling called 'the city of dreadful night' comes alive in smoke-filled narrow alleyways lit up by the Badshahi Mosque beyond.  For Eid, we filmed from rickshaws down those alleys as camels and all the streetlife of Pakistani crowded around us, before eating goat's brain curry washed down with iced drinks of mint, cumin and salt in the havelis of the walled city.
.
For the other important role of any good fixer is to know how to schedule the last shot of each day near a decent restaurant.
Hugh Thomson is the Series Producer and Director of Treasures of the Indus, a 3-part series beginning on Monday August 31st on BBC 4 at 9.00 pm.  Catch it on iPlayer