Aldeburgh Poetry Festival Friday
Friday late:   It's an attractive opening bill: the narrative directness of JO Morgan's story about a wild boy on Skye;   Matthew Caley's louche rock 'n' roll take on Illinois, breast-feeding and Yeats (and claim that Ezra Pound used to lie at languorous angles on chaise longues so that his semen could seep down to his brain and improve his poetry);  and then, to round it off, Don Paterson.
Writing one-line descriptions of poets for a programme is a bit like a wine critic's job.  Sooner or later you run out of adjectives.  Once we've had thoughtful, acute, rigorous, playful, incisive and that old stand-by prize-winning,  you have to start reaching for the unexpected.
Not quite redolent of hay on a mid-summer evening (though I can think of a few poets who would fit that bill) , but something ambitious.
Hats off then for the description of the wonderful Don Paterson who according to the programme shoulders the responsibility to live and write the fully-examined life with wit, courage and exemplary formal skill.  That's some day-job!
These days, Don hardly needs a strap-line under the billing, such is the impression that recent collections like Rain have made. He even has an 'official website'.
If this were a rock gig it would be the Proclaimers, followed by the Dandy Warhols, followed by Tom Waits.  Not a bad line up.
Indeed the night showcases all that is best about the Poetry Festival: poets reading well and with engagement to an audience excited to hear them.  The Jubilee Hall as a space always has a sense of occasion.  It's big enough to make the performers onstage seem both vulnerable and intense; small enough for a sudden and surprising intimacy with them when the poems start.
It's also a good moment to step back and appreciate what a formidable achievement the Poetry Festival is.  Without now receiving a penny of Suffolk County Council money, it manages to keep an impressive wave of energy beating each year against Aldeburgh's shingle shore.
But as Naomi Jaffa, the festival director, announces ("I'm going to do something very un-English:  I'm going to talk about money"), with the current cuts on the horizon, it will need all its  many supporters to rally round if it is to keep going.
All three poets read tremendously well.  Don Paterson has learnt his by heart, and his reading brings out both the underlying emotion and rhyme in equal, carefully weighted measure.  While apologising for the fact that he feels so much of his last collection dealt with 'death and divorce', he also reflects ruefully on the ageing process:  ' one no longer appears in one's own poems – one's presence is more of a heraldic affair.'  And he now takes siestas, although as a longterm hispanophile, we would have expected nothing less of him anyway…..
He reads several more recent, unpublished poems, including some from a sonnet sequence that he is beginning (he is at number eight or nine out of a planned 48),  He also reads 'The Day',  inspired by the DVD box set of Battlestar Galactica, no less, with a conversation between two aliens who have just got married:  it's engaging, direct and funny, although the insistent little six-year-old boy inside me taps me on my shoulder at one point and asks, ' did that man just say the earth was a star?'
.
Friday 19.00  John Glenday gives a modest and intriguing Craft Talk, on the art of revising, for which he is well qualified,  running often to 30, 40, 50 drafts of his own poems.  It has taken him 15 years to fine-hone his most recent book, 'filling the white grave of the page with words'.  Over the years he has come to recognise which early drafts will never respond to treatment, remaining 'ghost poems' and those which it is worth pursuing down the corridor.
It's a fine-honed talk as well, with not a word wasted and some fine aphorisms (some quoted from other poets):  inspiration is an inclination to take notice;  poetry is a river that widens into silence; the poem as a balance between craftsmanship and intuition.
One question though.  Why is it always easier to sound modest if you have a Scottish or Celtic accent?  Something to do with the dying fall at the end of each inflected sentence, of which the great and under-rated Glaswegian comedian Arnold Brown is a master.
.
Friday 17.00   I enjoy giving a class on the crossover between poetry and travel writing, using Elizabeth Bishop's 'Questions Of Travel' as a central text, from her book of the same name.  Writers in both prose and poetry when they travel can constantly criss-cross the borderline between detachment and engagement, observing the strange phenomena of a new country and taking part in them if they so choose.  It's a process we all do in our daily lives anyway, but somehow heightened in a foreign country, and fertile territory, with its own tensions and ambivalence:
Should we have stayed at home and thought of here?
Where should we be today?
Is it right to be watching strangers in a play
in this strangest of theatres?
 (Elizabeth Bishop 'Questions Of Travel')
.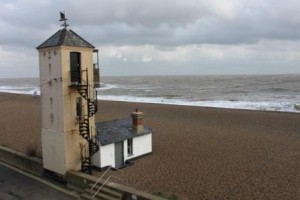 Friday 11.30   my own turn to get locked away comes around.  The festival has the use of an old lookout tower on the beach, and poets are encouraged to go up there for some silent meditation or even (and the organisers phrase this delicately) "possible writing".
Writers can be both fussy and stringent about the conditions for perfect writing – not least because it is the perfect displacement activity for actually doing any.  Finding it hard to face that blank sheet of paper?  It's all the fault of background noise, or stains on the wallpaper, or those bills elsewhere on the desk that need attending to.  No wonder writers need their sheds.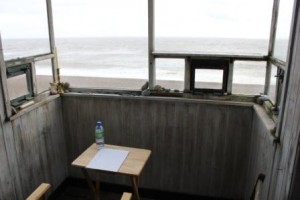 I'd noticed this just earlier in the morning when I realised that my small back bedroom in the eaves of the Poets House was, while perfectly clean and adequate, impossible to write in — all bed and no table.  In short, the perfect excuse.
But the lookout tower offers no such escape.  There are nine biros beside a block of paper.  The view is magnificent.  The waves break with a soft insistency.  The bleached wood is restrained and tactful.  Even the temperature is ambient.
I'm reminded of the problems I experienced at a Buddhist retreat last winter:
.
      Bad Pupil 
When I went to the Buddhist Centre retreat I found myself being continually distracted
by the soft, smoky runs of the boiler igniting  its regular puffs of disbelief
and by the distant catcalls of children
playing in the garden, while we sat inside,
in postures of graduated discomfort and in complete silence.
 .
The practice of mindfulness is not one that comes easily to me. 
 .
There is a ticking clock in my head, counting down the days, the hours, the minutes
 .
and never quite reaching the present tense.
 .
But then the Zen Master explains that it is like being at a drinks party
and only talking to the one person, yourself, rather than being distracted
by others.  'Make eye contact with yourself,' he suggests.  Or 'I contact',
as I understand him to say in a moment of rare connection
that blows away when someone else speaks.
.
Friday 08.30    Can't quite believe I'm blogging before breakfast but clearly a stream of consciousness blog will demand a dedicated approach.  Let alone all that stuff about Trollope knocking off a few thousand words before even having a cup of tea, and then doing a full 9 to 5 as a postie.
Now ensconced in the Poets House on the seafront where poets were gathering last night for a bit of pre-match banter and limbering up (over several bottles of excellent Chilean red) – The first person I see when I walk off the street is  J O Morgan at the kitchen table talking enthusiastically about Ted Hughes.  But then the man's been locked up in solitary confinement for a week in Thorpeness as part of his winnings for last year's Aldeburgh First Collection Prize ('a week of writing space'), which would make anyone want to hold forth a bit.  Wonder what they do to you if you lose?   (Joe is reading this evening with Matthew Caley and Don Paterson.)
Topics on the agenda over dinner are:  whatever happened to ('For Lizzie and') Harriet Lowell after all those poems about her;  was Lowell patrician and snobbish about his Irish servants;  what mobile signal works here?  And a brief foray on Iraq, but as everyone was in complete agreement, we moved on……. 
.
Thursday 15.00     Just off to the Aldeburgh Poetry Festival  – sadly not in the Oldsmobile on the right, as suggested in the festival e-letter, but a more sedate beemer – so watch this space as the Festival begins on Friday for posts, musings and comments over what promises to be a long and intriguing weekend: as well as giving a talk and class on the  relationship between travel writing and poetry, I'm to be their official blogger….
.
The Aldeburgh Poetry Festival blog is sponsored by Writers' Centre Norwich, a literature development agency for the East of England running workshops, competitions, events and more. www.writerscentrenorwich.org.uk