Apple Day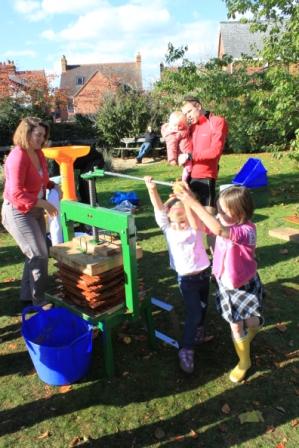 It's a perfect recipe for a communal village activity:  bring your ripe and surplus apples to the green, have them pulped and pressed to juice, play various arcane games with apples ('apple bowls' – quite a few inswingers – , an 'apple-shy' with prizes if you can knock them off their perch), eat local pork with apple sauce.  And of course drink copious quantities of  the actual juice, which constantly changes flavour during the day as different types of apple are added to the mix. 
In this small Oxfordshire village by the Chilterns, almost every garden has an apple tree and few can be bothered to store the fruit over winter in newspaper and sheds, let alone juice them, so much would just rot on the bough.   The big communal apple press on the green is satisfying in its simplicity, with layers of pulp in crates, separated by sheets of coarse muslin and with a long lever that everyone from kids to adults can take turns in wheeling around to extract the frothing liquid.
Roger Deakin would have loved it.  The Common Ground group he helped found were some of the first to celebrate the variety of the English apple, so that we did not succumb to a Golden Delicious monoculture (what Roger called 'Tesco's Delight').  He died four years ago, just after completing his wonderful Wildwood: A Journey Through Trees, and is much missed by his friends.  I wrote this in his memory:
.
Roger Deakin
(1943 – 2006)
The dark red windfalls from our apple tree
reproach me silently;  I never knew
their name or provenance until you died
so suddenly;  or cared about the orchard
with its Russets, Bramleys, old Charles Ross,
the quince tree pregnant with unwanted fruit,
a mulberry staining the cut-grass red; 
 .
and now you're dead;  and there's no chance
to walk your coppiced woods again, or hear
that rich, smoked voice describing how
the railway shed has fresh clean linen
always waiting for you on its bed
in a bower of alder and ash.
Roger, I eat this apple for you:
 .
The Devonshire Quarrendon Red.