Events
May 2016
TWO MEN AND A MULE: From Cloud Forest to Qoyllurit'i
A talk by Hugh Thomson and Benedict Allen, as presented on BBC Radio 4
Wednesday 25 May  18:45
how to: ACADEMY presents: Travel and Exploration 
The Tabernacle, London – in Notting Hill
£31.91 Standard Ticket | £74.47 Premium Ticket   Entry
Also featuring talks by John Gimlette, Amelia Richards, Christina Lamb and Jason Elliot
.
March 2016
TWO MEN AND A MULE: From Cloud Forest to Qoyllurit'i
A talk by Hugh Thomson and Benedict Allen, as presented on BBC Radio 4
7:00 pm, Thursday 24th March 2016
Peruvian Embassy, 52 Sloane Street, London SW1X 9SP
Advance Tickets: £10.00 members / £12.00 non-members / £8.00 students & over 65.
£5 surcharge for tickets at the door (except over 65s). A drinks reception will follow.
January 2016
Sri Lanka Literary Festival, Galle, speaking in Kandy and Galle
someone finally read the note at the bottom of this page!
.
September 2015, Sunday September 27th
Richmond Walking and Book Festival,  North Yorkshire.
Richmond Cricket Club 7.30 p m. Tickets £5 Bar and Bookstall
"Hugh was the inaugural winner of the Wainwright prize for nature and travel writing with his book "The Green Road Into The Trees" which is about a walk across England from Dorset to the Wash in which he explores the way the countryside was and is today.
He has written about Peru, Mexico and the Indian Himalayas so this is bound to be a varied and informative talk."
.
May 2015  Fingals (Devon, near Dartmouth, Salcombe and Totnes)..
Sunday, tea time, 10 May – Friday 15 May, after lunch, 2015
'Ways with Words' Writing and Reading Course.  Tutors:  Hugh Thomson, Andrew Wilson and Kay Dunbar
'Hugh Thomson will offer a series of whole group writing workshops. There are also 2 sessions over the course timetabled for individual seminars. At some times people follow private work that may have been suggested by the tutor or is self directed. Inspiration and developments, beginnings and endings, the bit in between: all will be explored.'
see their website for more details;  THE STUFF OF LIFE : Reading, Writing, Book Groups, Films, Discussion Groups
.
March 2015
Tuesday, March 3, 6.30 pm on the lower ground floor of Waterstones, Piccadilly.
The Travellers' Film Club:   'War Stories' with Andrew Graham-Yooll  (Director: Hugh Thomson)
 Hugh Thomson will show and discuss the film he made with Andrew Graham-Yooll about Argentina in which Andrew – the courageous editor of the Buenos Aires Herald who published the names of the disappeared on the front page of his paper – confronts some of the generals and explores Argentina's disturbing recent history.
For ten hair-raising years during the 'dictadura', Andrew Graham-Yooll was the news editor of the Buenos Aires Herald. All around him friends and acquaintances were 'disappearing'. Although the slightest mistake might have caused his own disappearance, he didn't shrink from getting first-hand experience of this war of terror. He attended clandestine guerrilla conferences, helped relatives trace the missing, and took tea with a torturer who wasn't ashamed to make the most chilling of confessions.
His resulting book, A State of Fear (Eland), remains one of the most vivid testimonies of that troubled time.
"I have never read any book that so conveys what it is like to live in a state of permanent fear."   Graham Greene
 This film was specially made for the BBC and is not available on DVD, so it is a rare chance to see it.
No charge, no reservations, first come, first served; but please register by e-mail piccadilly@waterstones.com.  'Film screening will commence promptly at 7pm and last 55 minutes, after which we will all have the opportunity to talk over a glass of wine.'
.
 July 2014:  Arvon Travel Writing   Tutors: Hugh Thomson and Sara Wheeler
 – 
Moniack Mhor, near Inverness
Any journey undertaken – even a brief rail journey to a favourite place – be a window into the world and yourself. Discover how to explore new places, and revisit somewhere familiar with new questions. We will help you describe the landscape, characters and memories of a place through natural, observant writing that sparkles with authenticity. It can be deeply personal.
Hugh Thomson is the author of a trilogy of travel books, starting with The White Rock. His most recent book is The Green Road into the Trees: An Exploration of England. 
Sara Wheeler is the author of eight books of non-fiction including the international bestseller Terra Incognita: Travels in Antarctica. Her book on the Arctic, The Magnetic North, was chosen as Book of the Year by Michael Palin.
Single room price: £700, Shared room price: £650,  grants are available to help with the course fee
.
May 2014, Devon, Fingals – Writing and Reading Course
Fingals hotel is situated in an idyllic valley close to the river Dart and within easy reach of Dartmouth, Salcombe and Totnes.
A WRITING AND READING COURSE
Theme: Ideas and Inspiration
 (mainly Writing + some reading / book group discussions)
18 – 23 May 2014.  See full description of course.
.
March 2014:   Waterstones, Piccadilly, LONDON
Thursday, March 27, 6.30 pm on the lower ground floor of Waterstones, Piccadilly.
The Travellers' Film Club:
Hugh Thomson will show and discuss the award-winning film he made with William Dalrymple, Shiva's Matted Locks, about a journey to the source of the sacred Ganges river in India, a favourite of the late John Peel:
'This is as wonderful a film as I have watched since I started writing this column and I cannot imagine not being moved by it and by the devotion of the pilgrims, particularly of the man who, even as he justifies leaving his family for ever in the name of his God, wipes away his tears. The soundtrack is marvellous, too.'  John Peel
 'Among the most ravishingly photographed series ever to be broadcast.'  Scotsman
Winner of The Grierson Award for Best Documentary Series. 
'long before the Alpine Club was formed, the Hindu Gods were coming up into the mountains….'
Made as the opening flagship programme for Indian Journeys, a three-part series for the  BBC Hugh directed with William Dalrymple, who journeyed across India looking at the country's great spiritual past and troubled present.
The series is not available on DVD, so this is a very rare chance to see the film.
No charge, no reservations, first come, first served; but please register by e-mail events.piccadilly@waterstones.com
'Film screening will commence promptly at 7pm and last 55 minutes, after which we will all have the opportunity to talk over a glass of wine.'
January 2014:  Stamford Arts Centre
Wednesday, January 29th, 8 pm
The Green Road into the Trees:  an illustrated talk.  'Author and explorer Hugh Thomson, best known for his books about South America, travels along the Icknield Way, from the south coast near  Dorset diagonally right across the country to Norfolk, arriving close to the coast by Kings Lynn.'
November 2013:  Tinkuy de Tejedores 2013: Gathering of Weavers in Cusco, Peru
A worldwide conference on Andean textiles
Keynote Speaker:  Hugh Thomson will talk about the long importance of textiles to the pre-Columbian world, as in his book Cochineal Red
.
October 2013:  Hay Walking Festival
Saturday October 12th, Hay-on-Wye, 19.30, tickets online
'We are delighted to welcome Hugh Thomson, author and explorer who will be giving an illustrated talk on the Icknield Way, an ancient trackway in use from pre-historic times from the South Dorset coast to North Norfolk.'
.
September 2013:   Royal Geographical Society,  Fellows Lecture, Mon 30 Sept
Hugh Thomson, The Green Road across England
'Best known for his books exploring South America, Hugh Thomson now traces the evocative 400 mile Icknield Way from Dorset to Norfolk, passing Maiden Castle, Stonehenge and Avebury to reach his destination at Seahenge.'
.
June 2013:  Kings Place Travel Festival, London, Sunday, 23 June 2013 – 3:30pm / St Pancras Room
'Hugh Thomson takes us on the old English ways, the drover-paths and tracks, the paths and ditches half-covered by bramble and tunnelled by alder, beech and oak: the trails that can still be traced by those who know where to look.'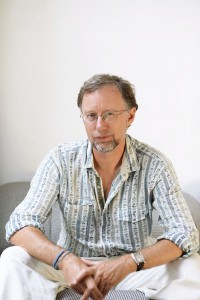 November 2012:  London History Festival 2012, Tuesday 27 November, 7pm
 Bestselling authors Tom Holland (In The Shadow of the Sword) and Hugh Thomson (The Green Road Into The Trees) discuss their latest books – and how religion has shaped history.
From Christianity and Islam, to Anglo-Saxon England and Peru, the authors will shed light on different cultures and eras. Question the authors and join in the debate.  All offensive weapons should be left at reception.
.
September 2012, Henley Festival,  Weds 26th September 1.00 pm
Hugh will talk about The Green Road into the Trees, together with Dan Kieran, author of  The Idle Traveller: The Art of Slow Travel. If they both manage to get there.
from the programme:   "Hugh is a leading travel writer and film maker who strongly holds the view that the world is not as explored as we like to suppose. His latest book, The Green Road Into The Trees: An Exploration of England,  is a journey from the very centre of England to the outermost edges following ancient trails and drover tracks. Be prepared to be inspired."
.

July 2012:   King's Lynn Festival, 'King's Lynn the hard way!'  Monday 23 July,  7.30pm
"Author and explorer Hugh Thomson describes his 400 mile journey from Dorset to Norfolk along the prehistoric Icknield Way. He uncovers the landscapes of ancient England, passing prehistoric monuments like Stonehenge and Avebury along the Way, and arriving at Seahenge."
Venue: King's Lynn Arts Centre (as part of the King's Lynn Festival), 27-29 King Street, King's Lynn, Norfolk, PE30 1HA.
Tickets: telephone +44 (0)15 5376 4864
.
July 2012 :  Ledbury Poetry Festival, Friday July 6th and Sunday July 8th
Hugh is taking part in 2 sessions at the Ledbury Poetry Festival:
July 6:  Screening of The Skull Beneath the Skin
A verse-film by Damian Gorman, Hugh Thomson and Ben Taylor marking the tenth anniversary of 9/11.
.
We know the journalistic story of 9/11. We know all too well what happened on that day. But what we need to be reconnected with is the emotion. What happened to us all just in watching those horrific events unfold – to the way we think about the world, about good, about evil.
.
What the story needs is a poet.
.
watch the film:  under 20 minutes
.
see what Bloodaxe Books say:  'This is a remarkable film: do watch it….'
July 8th:  Poetry reading, together with Damian Gorman
Hugh's poetry has been an important part of his output in the last few years – he appeared at the Aldeburgh Poetry Festival in 2010 – and his work ranges from Ryan Giggs to the death of an Afghan poet, from the first yak in Britain to the structure of crystals;  there are found poems, love poems, poems about his children, about films, about science, about marriage, death and divorce, and about angels.
Jan 2012:   RGS Fellows Lecture, Mon 31 Jan  [and repeated March 27 2012 at Clothworkers' Hall in the City]
Hugh Thomson, The Discovery of Machu Picchu 
The author of The White Rock and other books on Peru will talk about Hiram Bingham's extraordinary achievements as both an explorer and  photographer.
.
Oct 2011:  The Brewhouse Theatre in Taunton, Somerset, Wednesday 5 October 
 Beyond Machu Picchu
Hiram Bingham made his dramatic discovery of Machu Picchu in 1911, and popularised a view of 'the lost city in the clouds' as a religious hideaway for the Virgins of the Sun.  Almost a century later, Hugh Thomson discusses the real significance of Machu Picchu in the light of other recent discoveries in the Peruvian Andes.  Over the last twenty years, he has taken several expeditions to remote sites in this area and knows it well:  the Incas left many other ruins in mountain settings as equally spectacular and accessible as Machu Picchu, at heights of up to 12,000 feet.  The question is why?
.
 June 2011:  Canning House, London, Wednesday June 15, 6.30 pm
'Hiram Bingham and his Legacy ' by Hugh Thomson
A lecture to mark the centenary of his discovery of Machu Picchu.
Canning House, 2 Belgrave Square, London SW1  (Anglo-Peru Society)
April 2011:  Oxford Literary Festival, Saturday April 9, 10.00 am
Machu Picchu – Rediscovering a Lost Inca City
"Exactly 100 years ago in 1911, explorer Hiram Bingham was left breathless by his first sight of this untouched Inca city: one of the great, dramatic moments of archaeological legend. Then twenty-five years ago, noted South American explorer and travel writer Hugh Thomson set off into the cloud-forest to find a ruin that had been carelessly lost again after its initial discovery. In this fully-illustrated talk, Hugh discusses the real significance of Machu Picchu in the light of other remote Inca cities that have been discovered."
Followed by, at 11.30:
A reading from Tequila Oil, as part of Highland Park Readings
February 2011:   Talk on Peru at Canning House on Thursday 10th February, 7.00 pm 
"a Peruvian celebration with author and film-maker Hugh Thomson"
 Journey Latin America has invited Hugh to give a talk on Inca and pre-Inca cultures. Following the talk, which will start at 7pm, guests will be invited to stay for wine and canapés. Journey Latin America travel consultants will also be on hand to answer any questions you may have on Peru or Latin America.
To register for a free place at this event, email events@journeylatinamerica.co.uk.
In addition to the talk, Hugh will lead a one-off group tour that will arrive at Machu Picchu on the actual anniversary date – 24 July 2011.  Find out more about Hugh's two-week tour:   The Story of Peru.
.
November 2010:  Aldeburgh Poetry Festival, November 5-7
another double-hander:  Hugh will be talking about poetry and travel writing with Harry Clifton, and also giving a workshop at the Poetry Festival.  See the programme.  He will also be doing the official almost-live blog from the festival, described as:
'The ultimate celebration of international contemporary poetry. Join the poetry party on the inspirational East Suffolk coast for 44 events (12 free) – readings, workshops, discussions, craft-talks and exhibitions. Download the full Festival programme at: www.thepoetrytrust.org     Box office: 01728 687110′
.
July 2010:   a double-hander at the Dartington Hall Way with Words Festival, nr Totnes, July 14-15
Hugh will give two lectures on subsequent days to mark both his recent books:  one on Tequila Oil;  the next on Machu Picchu which not surprisingly is one of his favourite 50 Wonders of the World.  see brochure
.
July 2010: Online discusion with other travel writers about its art and craft  at The Times Online, to tie in with The Dolman Best Travel Book Award.  But subscribers only:  cheques should be made payable to R Murdoch Esq.
.
June 2010 :  Tŷ Newydd June 7-12, Monday to Saturday
Join Hugh for a travel writing course, with the wonderful Christopher Somerville and Bidisha,  in  a spectacularly beautiful part of Wales.  This follows previous courses Hugh has taught  for Arvon.
TRAVEL  WRITING  COURSE
'Any journey undertaken – even a brief rail journey to a favourite place – can be a window into the world.  Discover how not just to explore new places, but to revisit familiar places with new questions. This course will show you how to gather and exploit the source material to describe the landscape, characters and memories of a place through natural, observant writing that sparkles with authenticity.'
'Tŷ Newydd is the National Writers' Centre for Wales and since 1990 has attracted writers from all over the world both as tutors and course participants.
One of the loveliest and most historic houses around the Snowdonia National Park, Tŷ Newydd is set in exquisite, wooded surroundings, looking out over Cardigan Bay, between the shapely hills of Eifionydd and the sea, and with the mountains of Wales ranged round the horizon.'
Residential: £525 (single); £450 (shared)  More information and how to book
March 2010:    Wednesday 03 Mar, 11.15am – 12.15pm
'Hugh Thomson has gone looking for lost cities in the Inca heartlands, journeyed through the most inaccessible parts of the Himalayas, and climbed Mt Kilimanjaro. His latest book, Tequila Oil, is about his attempt to buy a car on the Texan border and then take it thousands of miles to sell on the black market in Central America. His adventures do not always go according to plan but he does know how to write about travel. Come and find out how.'
See event information and book tickets £6
February 2010:  Travel Bookshop London, Thursday February 25th, 7.00pm
To launch the paperback of Tequila Oil, Hugh will give a reading and punters can enjoy a glass of wine
'The Travel Bookshop offers the literary traveller a complete reading experience of every country in the world.  In addition to stocking an enormous range of the latest guidebooks, they offer travelogues, literature, history and biography, all arranged country by country.  The shop was also the inspiration for the bookshop in the 1999 Richard Curtis and Hugh Grant movie, Notting Hill. '
The Travel Bookshop, 13-15 Blenheim Crescent, Notting Hill.  Tickets a mere snip at £3.
.
Past Apearances:
Hugh has previously lectured several times for the Royal Geographical Society in London.   He  has also given lectures at the universities of Cambridge and Oxford,  The Explorers Club in New York and for the YPO (Young Presidents Organisation) in Barcelona and Cusco.
He has taught courses on Creative Writing for The Arvon Foundation and was a Special Lecturer at Bristol University for a  year.  He was recently appointed to a Royal Literary Fellowship at Oxford Brookes.
Hugh has appeared on  BBC Radio 4's The Today Programme, Midweek, A Good Read, Excess Baggage, Off The Page and many other broadcast programmes, including National Public Radio in the USA and the BBC World Service.
He presented a feature length programme on Machu Picchu for  Radio 4 in 2011.  Listen Again to the BBC Radio 4 documentary on Hiram Bingham which Hugh wrote and presented, Who Found Machu Picchu.  'A classic', A.L. Kennedy, Pick of the Week.
He has been asked to speak at many Literary Festivals including Hay, Edinburgh, Cheltenham, Bath and Oxford.  He would welcome invitations to speak at Cartagena, Jaipur or anywhere hot, particularly in winter……