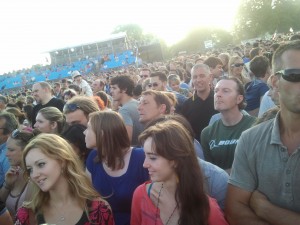 There was a moment when I was in the crowd of 80,000 for the final Olympics concert in Hyde Park, on the evening of the closing ceremony, and New Order were playing 'Love Will Tear Us Apart', when the last of the late August sun fell over the crowd's faces  – a crowd who were singing along to the song – and a realisation came home to me which had been growing for the last couple of years. Slowly but surely, Hyde Park has become a concentration of wonderful energies from around the world.
.
When I was a kid growing up in London it was a dull place, a place of nannies with prams and the Round Pond and not much happening.
But slowly and quietly things have been changing.  It began with the outburst of emotion over Diana's death when the railings of the park spilled over with flowers;  her memorial fountain  – treated more as a long water slide by delighted kids – and flower walk softened the martial regularity of the place.
With its intricate system of paths all radiating out from one another in complex geometrical patterns, rather like those children's games where you make a point and then swing a compass to see where you can get to next, it is a park one can get lost in constantly and discover new surprises:  the Lido where the hardy can still swim the Serpentine;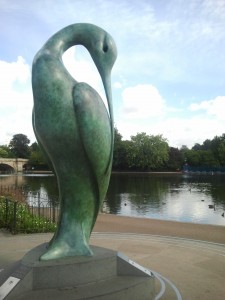 the beautiful new statue beside it, unveiled in 2009, of a 10 foot high bronze ibis;  the many families from the Middle East who feed the ducks as a Sunday outing, carefully avoiding the Rasta-locked rollerbladers who swing along the tarmac;  Speakers Corner, where fundamentalist Americans wearing khaki debate with sober Hasidic scholars wearing suits.  The joggers of every nation pass the couples sitting on a bench, or the students playing Frisbee.
The park technically speaking is made up of two republics joined at the hip, like the old Czechoslovakia;  Kensington Gardens to the West and Hyde Park itself to the East.  But to all intents and purposes Londoners treat them as the same contiguous park, regardless of bureaucratic distinctions.  The Serpentine that snakes between them, with its strange boomerang shape, is not so much a border as a binder.
By happy chance Yoko Ono currently has a show in centre of the park, at the Serpentine Gallery beside the lake, with 'peace trees' outside, festooned with the notes and wishes of visitors.  The show not only demonstrates that she was doing conceptual art of great simplicity and rigour when the new sensationalists like Hirst and  Emin were just a gleam in the art teacher's eye, but encapsulates the feeling that what used to be the preserve of Central Park in New York – the internationalism, the love, the casual mingling of nations, many wearing rollerblades – has now come here to the centre of London:  the park as a world of its own; the park as the centre of the world.