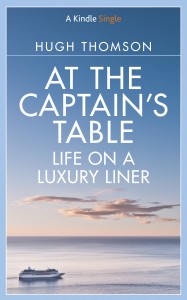 At The Captain's Table:  Life on a Luxury Liner, Hugh Thomson (Kindle Singles £1.99).  Round the world the soft way. For less than the price of a cappuccino grande, a frothy confection of a travel book with double shots of autobiography and world analysis thrown in.   download it here.
I certainly enjoyed writing this  –  light-hearted, it involves all the classic elements of comedy: life on the high seas, some rampant snobbery and even a marriage at the end …
For those who haven't come across Kindle Singles before, it's an interesting new Amazon initiative.  Kindle have started to commission established figures like Stephen King, Jon Krakauer and Amy Tan to write shorter, novella-length books and put them in a special branded bit of the store, so readers know they're getting something that's met a quality control threshold – unlike much of Kindle, which can be self-published.  Something which should be getting traditional publishers worried, as a harbinger of much more to come.
FROM THE BLURB:  "Mischievous and entertaining, this is the first book to be written about a new phenomenon – the strange and unreported world of small luxury cruise ships, so exclusive that if you need to ask how much they cost, you can't afford them.
So don't act like the Cruise Queen Bee who, on received her invitation to the Captain's table, wrote back giving her apologies and explaining, 'I cannot accept your invitation as, on principle, I never eat with the staff.' "